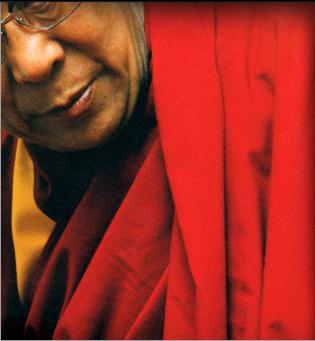 the hidden dalai lama
1 -
Excellence
" May my heart at all times be compassionate
My heart, at all times be compassionate
At all times be compassionate
All times, be compassionate
Times, be compassionate
Be compassionate
Be
Be compassionate
Be compassionate to all
Be compassionate even to the lady
Even to the lady who blocks my view
My view of the Dalai Lama after I drove
Fourteen hours in the August heat
Just to catch a glimpse"
( Dinty Moore ¨C Poem on almost seeing HH the 14th Dalai Lama, Bloomington, Indiana, July 1996. )
___________________________________________________________________________________________________________________
1.5 -
Teachers' Blessings
I wishing you happy new year 2009.

Lama Phuntsok

( Main Attendant ¨C HE Luding Khenchen Rinpoche )

DEAR KUNGA NYEMA LA.

WE WISHES YOU VERRY HAPPY NEW YEAR ( 2009 ) AND PRAYING FOR HAPPINESS IN ENJOYMENT AND REST OF YOUR LIFE & ALSO THIS NEW YEAR PASS
WITH SMOOTHLY ALL OVER THE WORLD.
Drepung Khenpo Tripa Yangsi ¨C Phara Khenchen Tulku &

Geshe Dakpa Samdup

Tashi Deleg BB Tan,

I hope you are doing well and also busy.

A very short note to wish you and all the members ¨C

Season's Greetings and Best Wishes for Good Health, Good Fortune and Happiness in 2009!

Merry Christmas and a Very Happy New Year.

Take care and see you all very soon.
Mindroling Khenchen Rinpoche.

Dear Friends in the Precious Dharma,

May this note find you that are well and full of strength. I am well, as usual, and we are all doing well here at Kagyu
College
. I would like to express my heartiest greetings and prayers on these great occasions such as LADAKHI NEW YEAR which is on 28th of December 2008, Christmas and the New Year, the Chinese New Year, which is celebrated on 26th of January and the Tibetan NEW YEAR which is on 25th of February 2009.
May the Buddha bless you with all your daily positive activities!
With many greetings and prayers on the mentioned great occasions.
Khenpo K. Rangdol
______________________________________________________________________________
______________________________________________________________________________
What's in store ??
1 -
Excellence:
His Holiness & Bauer's photos
1.5 -
Teachers' blessings
2 -
Dearest Friends' @ CAS:
a) Trisur Rinpoche's divine manifestations ( they don't seem to stop )
b) Holy Masters and teachings in 2009 ( you make them happen )
c) New Section
d) Share a book, poem , song or other things ( ...... )
e) "Well-done !!"
3 -
Quote/s from the Buddha's holy scripture:
Buddha blessed her, "So be it, my child. May you find peace."
4 -
The Sure-Steps to Enlightenment:
a) Topic Seven - Wishing Bodhicitta ( Part Two - "Giving & Taking" )
b) Complete Cherishing-Others, the Great 13th Dalai Lama
5 -
Support Dharma Propagation Fund ( DPF ) - Product Highlght :
Small, authentic thangkas
6 -
For Friends of CAS:
( "Voidness" )
7 -
You got to know this !!
The Malays talk Bodhicitta
___________________________________________________________________________________________________________________
2 -
Dearest Friends @ CAS,
Welcome to 2009, another year to be embroiled in samsaric confusion but with inconceivable opportunities to engage in the bodhisattva's path of the Six Great Perfections .... so, we rejoice !!
CASonline's new "Banner of Dharma and Victory" hides in James' lap top for the moment.It should unfurl in the next issue.
Our excellent visitng Loseling Geshe and monk on visa-transit bring further updates on our precious Root Teacher ( the 100th Ganden Trisur - late Gelugpa Official Head ).
During Trisur Rinpoche's 18 days' post-clinical-death meditation ( known as the "thukdam" ), many relics spontaneously manifested from His holy body ( robes, face ) to everybody's infinite shock and rejoicings. These relics are now in the possession of the monastery and will be shared among all the major Gelugpa monasteries who requested for them.
Also, the plant-branch in the Intiation Vase connected with holy chord to Rinpoche's hands did not wither but stayed green and bloomed throughout the more than half month of Rinpoche's "thukdam". ( Usually, the branches yellowed and wilted after 3 to a maximum of 8 days. ) We cannot help but recall how every pot of His Singapore residence's flowers loved to bloom wildly throughout the entire months ( 1 month each in 5 years ) of His stay in Singapore.
We touched our crowns to the Teacher's holy feet and prayed that all that CAS has done will be of deepest good. Perhaps, Rinpoche, now, like He always does, gazes compassionately and smiles.
It will be a terrible shame to discontinue what precious Master has started. So, we have planned for 2009, the following possible line-ups:
- Khenpo Konchok Rangdrol: Achi Chokyi Drolma Retreat and teachings
- Sharpa Choje: Heruka Chakrasamvara
- Jangtse Choje: Guhyasamaja
( the above 2 masters are next in-lines to the Throne of the Ganden Tripa - the highest office in the Gelugpa school )
- The Great Drikung Ontrul: ( very special programmes - we await Master's instructions )
- Mindroling Khenchen: Terdak Lingpa and / or the Longchen Nyingthig
- Palyul Khenpo Tsering Dorje: Yonten Dzod / the 8 Great Herukas / the Queen of Great Bliss
The Buddhas know whether our good wishes and planning will come true although we don't. So, what's left should be your endless dedications to these and all Dharmic works to bloom, hopefully like the plants which fought to blossom for the Ganden Trisur.
This issue, we introduce a new section: "You got to know this !!". We start the section rolling with a shocking proposition - the Malays talk Bodhicitta daily !! Scroll down to see why.
Very importantly, If you have any great books, pictures, songs, poems, directly or indirectly related to the holy Dharma which you must share, email to bb @ CAS: contact@casotac.com.
These items you want to share must be helpful ( exhortations to see ) or unhelpful ( wanrings to stay away ) to the Friends @ CAS. Most importantly, they should make the buddhas happy and the dakinis laugh.
2008 is fruitful.
Sometimes we really wonder how we managed !!
Camden Education Center ( www.camden.edu.sg ) our society's affiliated education centre was visited and blessed by some of Tibet's highest "historical" hierarchs - HE Garchen Rinpoche, the Kathok Khenchen Tulku, Khenpo Rangdrol, the Drepung Loseling Khensur, Sakya Dorje Denpa, Lho Kunsang, the Mindroling Khenchen, the Kathok Getse and many, many lovely, screaming kids and vivacious, colourful teens, numbering close to a hundred.
CAS's projects are always JUST so properly done. The Dharma programmes see a sharp drop in numbers ( as per our wishes and our Teacher's instructions ) but definitely an even sharper rise in "quality" in terms of students and programme-content: Full Vajrabhairava / the Drikung's Uncommon Yangzab Cycle / Samantabhadra's Aspirations / Madhyamika / Cittamani Tara / the Dzogchen Protectors / Achi / Palden Lhamo / Lam Rim.
We see also unprecendented launches of several important Dharma teachings in CAS's Video Archive: Gen Wangchen and the Loseling Khensur's amongst others.
We also finally succeeded in getting up "live" webcast .... "phew !!"
CAS is growing...... stay that way and continue to make available the pure, authentic Dharma !!
"HAPPY NEW YEAR !!"
bb, wikiki, fifi, lei bi, Ven Ch. Yu, zu-wei, arl-vin and other such beings @ CAS,
where the precious Dharma thrives, Masters come and plants don't wither
___________________________________________________________________________________________________________________
3 -
Quote/s from the Buddha's holy scripture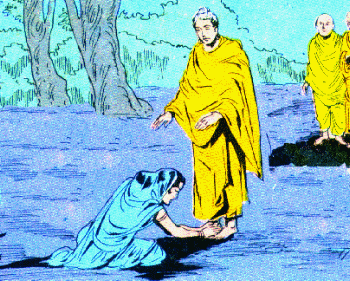 Long long ago, in the time of Lord Buddha. there lived a dancer in the city of Mathura. She was known as Vasavadatta. She was well known for her beauty and dance. Although she had many a suitor, none had the character she was looking for.
One evening Vasavadatta was looking out through the window when she saw a handsome young monk passing by. He was none other than Upagupta, an ardent disciple of Lord Buddha.
Vasavadatta fell in love with him at once and asked her maid to call the young monk to her house.
The maid rushed to the monk and said, "Vasavadatta, my lady, wishes to see you. Oh the holy one, will you come in?"
The monk gracefully replied, "No, not now, but I will see her in time."
Vasavadatta was disappointed. She thought that perhaps the poor monk was embarrassed to come bearing no gift. After all, the rich noblemen always came with gifts of gold and jewels. She asked her maid to run out and tell the monk that she wanted only his company and he need not bring any gift.
The maid once again conveyed to Upagupta Vasavadatta's wishes.

Upagupta replied gently but firmly, "No, I cannot. It is not yet time to visit Vasavadatta."

Disappointed Vasavadatta stopped dancing. The people were mad.

"What is the matter with her? She seems to be always unhappy" complained the nobles.

Vasavadatta's maid knew her sorrow and was sad to see her beloved mistress always brooding over that heartless monk who refused to visit her.

To get her mind off of the monk, the maid asked Vasavadatta to go an visit the exhibition of a young sculptor of Mathura. As Vasavadatta admired the works of art, the young sculptor was secretly admiring her beauty. His thought was interrupted when Vasavadatta found a sculpture that she liked.

Vasavadatta asked, "This is so beautiful. How much does it cost? Will you sell it to me?"

The young sculptor replied, "You might find the price too high."

Proudly Vasavadatta said, "Whatever its price, I am prepared to pay it."

"It is yours, if you agree to dance again" said the young sculptor.

Vasavadatta hesitated.

The sculptor said, "Are you going to go back on your word? You promised to pay any price!" Vasavadatta agreed to keep her promise by dancing again. The people of Mathura thanked the sculptor. The audience gave a thundering applause to Vasavadatta but in her heart Vasavadatta was still not happy.

She kept on thinking, "Why did Upagupta shun her when thousands of people long for a sight of her."

In the days that followed, the chief sculptor got increasingly interested in Vasavadatta. He asked her to pose for him so that he could capture her image in stone.

Seeing his exquisite work, Vasavadatta commented, "My art will die with me but your art will last for centuries to come."

The sculptor remarked, "I am so happy to see my talent bring happiness to you."

A few days later, the sculpture vanished. Both Vasavadatta and her maid were worried. They thought he might have left town. To their horror his body was found buried, not far from Vasavadatta's house.

People reported that the young sculptor was last seen entering Vasavadatta's house three days before he was killed. The enemies of the sculptor, who were jealous of him for getting the favor of Vasavadatta, had killed him and secretly buried him near Vasavadatta's house so that she would be falsely accused of the crime.

The king called Vasavadatta for an explanation. Shocked Vasavadatta had nothing to say. He confiscated all her property and banished her from Mathura. People threw stones at her and she was badly wounded. Finally she took shelter in a crematory. Her dearest maid knew that she was innocent. Vasavadatta was deliberatelly framed for the murder.

Vasavadatta soon became ill as her wounds got infected. She received no sympathy or medical help from anyone except her faithful maid. The passers-by would often throw stones at her and asked the maid to leave her to die.

"She deserves that for the sin she has committed!" they shouted.

Then came Upagupta, the Buddhist monk. Vasavadatta asked her maid to cover her. She did not want to show her wounded face to her beloved, Upagupta.

Upagupta said, "Vasvadatta, I have come to you just as you always desired."

"Oh monk! You rejected me when all of Mathura admired me," said Vasavadatta.

"Why do you choose to come now when I am nothing but a mass of festering flesh, shunned by all?" asked she.

Upagupta smiled and said with great compassion, "At that time you did not need me, Vasavadatta. You do now. Come, let me take you to my monastery and allow me heal your wounds."

In due course Vasavadatta recovered under the care and nursing of the young monk.

But she lost her beauty and was always depressed.

Seeing this, Upagupta consoled her, "Vasavadatta, you are sorry for loosing your beauty which lasts only as long as you are young. You are yet to discover a beauty greater than that you have lost, the beauty of the self. Come with me and listen to Lord Buddha, it will bring you peace and eternal happiness."

Vasavadatta, curious to know more, began to attend the discourses of Lord Buddha.

"You can't call your body your own!" Buddha said in his discourse. "When the body is cast away, it becomes food for the vultures. Light the lamp within you, only then, will you find true peace."

Quietly Vasavadatta began to think and repeat to herself, "Light the lamp within you, peace will come ---."

When the discourse ended, Vasavadatta fell at the feet of Lord Buddha seeking salvation.

Buddha blessed her, "So be it, my child. May you find peace."
___________________________________________________________________________________________________________________
4 -
"The Sure-Steps to Enlightenment."
( Meditation on the Lam Rim - rough, authentic notes. )
TOPIC SEVEN
WISHING BODHICITTA ( Part Two )
( "Giving-and-Taking" for Generating Bodhicitta )
"Equanimity"
All beings are actually perfectly "equal". We have mistakenly grouped beings into beings we a) like, b) dislike and c) are neutral.
a) Beings we like are reflections of our attachment;
b) Beings we dislike are reflections of our anger and
c) Beings whom we are neutral to are reflections of our ignorance.
( While contemplating the above, do 108 times mantra of your Yidam - Chenrezig, Tara, Yamantaka or others. Or you can do the mantras until you feel the topic has firmly been internalised in your mind !! )
ONE
"Self-Cherishing ¨C cause of all sufferings"
From eternal past, we have cherished only ourselves. Self-Cherishing is the cause of all other defilements and pain. Self-Cherishing is why we are still in samsara undergoing endless sufferings. We must destroy this Self-Cherishing attitude.
( While contemplating the above, do 108 times mantra of your Yidam - Chenrezig, Tara, Yamantaka or others. Or you can do the mantras until you feel the topic has firmly been internalised in your mind !! )
TWO
"Taking:
Imagine that this cause of all sufferings - the Self-Cherishing attitude - manifests in the form of a black dot in the center of our hearts. We breathe in, visualizing that we completely take on the sufferings of all mother sentient beings ( who have died for us infinite times throughout incalculable pasts ). These sufferings are in the forms of black smoke or whatever aspects we fear most. These aspects enter through our nostrils to the Self-Cherishing attitude in the form of the black dot in our heart and completely destroy it. We have successfully destroyed our Self-Cherishing attitude.
( While contemplating the above, do 108 times mantra of your Yidam - Chenrezig, Tara, Yamantaka or others. Or you can do the mantras until you feel the topic has firmly been internalised in your mind !! )
THREE
"Cherishing-Others ¨C cause of all happiness"
For eternal pasts, the Buddhas have cherished only others. Cherishing-Others is the cause of all happiness and even Buddhahood. We must bring to complete fruition this attitude of Cherishing-Others.
( While contemplating the above, do 108 times mantra of your Yidam - Chenrezig, Tara, Yamantaka or others. Or you can do the mantras until you feel the topic has firmly been internalised in your mind !! )
FOUR
"Giving"
Imagine that this cause of all happiness - the attitude of Cherishing-Others - manifests in the form of the most blissful light which appears in the center of our hearts, after we have destroyed the black dot of Self-Cherishing. We breathe out, visualizing that we completely give every happiness and good to all mother sentient beings ( who have died for us infinite times throughout incalculable pasts ). These happiness and good are in the forms of blissful light or whatever aspects all beings like most. These light or aspects exit from our nostrils in complete dedication and love to all mother sentient beings. We have successfully brought to fruition our attitude of Cherishing-Others.
( While contemplating the above, do 108 times mantra of your Yidam - Chenrezig, Tara, Yamantaka or others. Or you can do the mantras until you feel the topic has firmly been internalised in your mind !! )
FIVE **
"Wishing Bodhicitta"
We can completely overcome the Self-Cherishing Attitude and completely bring to fruition the attitude of Cherishing-Others only when we attain Buddhahood. So, we generate the wish that, through whatever we do, may they be causes for attaining Buddhahood ( for the sake of all mother sentient beings ).
( While contemplating the above, do 108 times mantra of your Yidam - Chenrezig, Tara, Yamantaka or others. Or you can do the mantras until you feel the topic has firmly been internalised in your mind !! )
[ Here ends the main points dealing with the Seventh Topic ( Part Two ) of all Lam Rim traditions. Firmly do it till it becomes your mind. ]
** Point Five is not included in this topic by some Teachers but is elaborated upon by others.
Complete Cherishing-Others ¨C the Great 13th Dalai Lama
Once social proceedings got under way, His Holiness was very warm
and friendly and smiled a great deal. In an unusually low, guttural bass
voice, he asked Derrick various questions. Were His Majesty the King-
Emperor ( of England ) and the Viceroy in good health ?? Were we in
good health ourselves ?? Had we had a good journey ?? The only thing
that seemed to upset Him was that we had sailed down the Tsangpo
( River ) in a yak-skin coracle.
"Oh, but you should not have done this," He said with great concern.
"It is so dangerous." And He begged us not to do it again.
He was concerned to know whether everything was to our satisfaction
at Dekyi Lingka. Were we happy there ?? Were we being properly looked
after ??
In fact His whole concern throughout the entire interview was for our
welfare. We were the ones that mattered to Him; He did not seem to think
about Himself at all. For the first time in my life I seemed to have had the
good fortune to meet a genuinely selfless person¡­..
I am not a Buddhist ¨C I have been a Christian all my life ¨C yet there was
an atmosphere in that little chamber. Something emanated from His
Holiness. He was clearly a deeply spiritual man, and yet, as I have said,
spiritual in a very down-to-earth sort of way ¡­.
"That was quite remarkable !!" I said to Derrick as we remounted the ponies ( after the audience ). I felt strangely
uplifted, every perception clear as a bell, the world around me radiant.
( Memoirs of a Political Officer's Wife in Tibet ¨C Margaret D. Williamson )
___________________________________________________________________________________________________________________
"Support Dharma Propagation Fund ( D
PF ) - Product Highlight".
During CAS's trip to India in June '08, we acquired much holy objects from the Tibetan refugee camps to be of as much help as we can. Amongst them, are exquisite, beautiful small thangkas with some of the most pictures of Buddhas such as Green Tara, Guru Padmasambhava, Amitayus, the Medicine Buddhas, Je Tzongkhapa and many more.
They have been consecrated by the late 100th Ganen Trisur ( 3 months before His passing ), the present Sharpa Choje, Gen Wangchen ( Teacher of Ling Rinpoche who is the reincarnation of the Dalai Lama's main Teacher ) and the Loseling Abbot Khensur Lobsang Gyamtso.
They are ideal for the shrine especially when travelling, measuring about half an A4 size page. Given their highly lmiited number, they will be available to students with genuine faith and devotion.
Suggested offering at S$16/- ( for Friends @ CAS ) & S$20/- ( for non-friends @ CAS ) excluding postage if applicable.
How you can make donations: http://www.casotac.com/modes.html
We could try to post them to you ( will include postage costs of S$3/- to reimburse Dharma Propagation Fund - DPF ) or you could come down to Camden Education Center to collect.
Do confirm first so we can transfer them from Ganden Trisur's place in Singapore to the education centre before you come.
All contributions will go into CAS's life-saving DPF !!
___________________________________________________________________________________
6 -
FOR Friends of CAS
We are quite sure the holy Wheel of Dharma turns somewhere, though not to our attention this issue ( !! )
___________________________________________________________________________________
7 -
You Got To Know This !!
Indonesia, Tibet and the secret of 'terima kasih'
Anand Krishna, Jakarta.
I first met His Holiness the Dalai Lama in 1996. Accompanying me was a parliamentarian and two other friends. We were fortunate enough to have a private audience with him. When I said we were from Indonesia, he immediately reacted: "Oh yes, yes, yes ... Indonesia .... Tibet has very strong relations, strong ties with Indonesia."
"Atisha, was a monk from India. He went to Indonesia to learn from the Indonesian master," he said.
Fortunately, I knew the story.
Indeed, not many Indonesians remember we used to be a treasure house of wisdom. We did not import spirituality from India; indeed, even the Indian pundits came to our archipelago to learn from our indigenous masters.
Later, Atisha traveled to Tibet, where he propagated the teachings of his master.
The meditation he taught is still being practiced by the Tibetans. It is called Tong-Len, literally meaning "The Meditation of Terima and Kasih, Receiving and Giving". The common phrase terima kasih, now meaning "thank you", is no ordinary phrase.
There's a deep philosophy behind it. It reflects our view of life and it projects our deep rooted belief. We, Indonesians, believe, or at least once believed, in the law of gratitude. We do not, or did not, need a movie like The Secret to tell us to "be grateful" for all we receive from the universe.
More than 800 years ago, the Indian pundit traveled to Sumatra, then known as Svarna Dvipa, to learn from Dharmakirti Suvarnadvipi, Dharmakirti of Svarna Dvipa. He spent more than 10 years with his master. He documented each word he heard and each lesson he learned.
We, Indonesians, do not have any record of this.
Later, this meditation would be used by Tibetan medicine men and doctors. They would imagine their patients' pain and draw it into themselves. This is the first part of meditation, terima -- receiving. Then, in the second part, they would send out their energy of well being, kasih -- giving.
The was technique soon replaced their herb-based anesthesia. Let me remind you again, all this happened over 800 years ago.
The beauty of this technique is, the receiver of pain, the recipient, can process pain and transform it into well-being. All negativities can be drawn into oneself, be processed and then projected out as positive energy.
Now the technique is being used by many Western neurologists, as part of transcranial magnetic stimulation therapy, to relieve the suffering of some stroke victims.
"But I have to emphasize, we haven't got a clue what's going on," said Max Bennett, professor at the University of Sydney and one of the world's top neurologists.
"It's a phenomenon. But in one sense, it does indicate that there are a lot of things that we know nothing about in Western science," he said.
"We know by the year about 2020, the greatest disabling phenomenon for the health of the human race will be depression. Not cancer, not heart disease, but depression," he said.
This drug-free technique from our own archipelago can ultimately replace the expensive morphine-based pain killers.
When discussing the Chinese occupation of his homeland, the Dalai Lama said, "This is the meditation which frees me from hatred. I use it every day to send out positive energy and feelings to the Chinese."
I personally can never ever forget the words of the Dalai Lama: "We Tibetans are always thankful to Indonesia and Indonesians, for this beautiful Tong Len teaching."
Those of you who have seen and heard him may recall the way he speaks. He uses minimal words, short sentences and is not burdened by the sophisticates of English grammar.
I bear witness to Dalai Lama's terima kasih for us, Indonesians and our land, Indonesia. I stand witness to his gratefulness, his gratitude.
Now, as Indonesians let's remind ourselves of what it means to be thanked. It is kembali kasih, and when reading between the lines it means "I am equally grateful to you."
Unlike the American "welcome" and British "never mind", Indonesians return "gratitude with gratitude". Let us now face the mirror of our consciousness and let us check the face of our souls. Have we returned the Tibetan gratitude with gratitude?
For almost a millennium the Tibetans have preserved the missing pages of our history. They have preserved them with a sense of gratitude. What have we done for them? How do we return our gratitude to them?
The European Union, the United States, the United Nations and countries like Poland, Germany, India and Taiwan have all commented on the recent uprising in Tibet against the illegal occupation of their homeland by the Communist regime of China.
What do we have to say? Perhaps we find it more comfortable to remain silent as we have been doing recently. But, let us remind ourselves this is not our tradition, this is not our culture.
Let us remind ourselves of what Sukarno, the father of our nation, once said: "Freedom to be free* For, of what use would be 'freedom from fear'; of what use would be 'freedom to express, freedom to believe, and freedom from poverty, freedom from fear' -- if there is no 'freedom to be free?'"
Time and again, Sukarno would repeat that the fruits of Indonesia's freedom would not be enjoyed by Indonesians alone and that Indonesia would unceasingly work for the freedom of all peoples from all lands.
I have no space left to discuss the illegalities of the Chinese occupation of Tibet. Any student of history cannot but condemn the occupation. We, as a nation, must immediately stand up against the occupation. Otherwise, generations to come may laugh at our cowardice, unclear foreign policies and our negligence toward history. Aside from the Tibetan issue, I am afraid our attitude may ultimately harm us.
The writer is a spiritual activist and author of more than 110 books
___________________________________________________________________________________
tELL A fRIEND
"KNOW DHARMA; SHARE DHARMA !!"
Be part of our thousand++ "Friends @ CAS" ( that belongs to Chenrezig & other holy beings )
xxxxxxxxxxxxxxxxxxxxxxxxxxxxxxxxxxxxxxxxxxxxxxxxxxxxxxxxxxxxxxxxxxxxxxxxxxxxxxxxxxx
"I wanna number my days in samsara. sUBSCRIBE mE NOW !!"
Email contact@casotac.com
_______________________________________________________________________________________________________
See www.casotac.com ( available 24 hrs a day / 7 days a week )
CASonline - Your Buddhist online news and teachings.
( All online articles lovingly archived at http://www.casotac.com/casonline.htm )