Just when we thought we are so heart-stoppingly fortunate to have one of the seniormost Teachers as our resident Teacher in Phuntsok Cho Ling ( CAS ), the Dalai Lama skillfully thwarted our beautiful plans with appointment of our Teacher as the Great Abbot of Segyu Monastery.
In fact, only the senior, retired Abbots of the 2 foremost Gelugpa tantric monasteries ( Gyuto and Gyumey ) are eligible to be the Abbot of Segyu Monastery. The position of Segyu Abbot is highly prestigious and elicits immense respect and awe even, as only the finest and best of Teachers are considered as candidates for Abbotship.
We have waited 3 full years when Rinpoche was serving as the Gyudmey Abbot ( we managed a fleeting one day detour to Gyudmey Monastery to see Rinpoche though ) and now we are to lose our holy Teacher for another 3 more years for Him as the Se-Gyued Abbot.
Thankfully, other holy Masters should keep on coming: the holy Drikung Ontrul, Loseling Khensur and of course, the more meritorious beings completed the full Amitabha retreat with Garchen Rinpoche while others like bb @ CAS completed only one session of 1 and a half hours.
___________________________________________________________________________________________________________________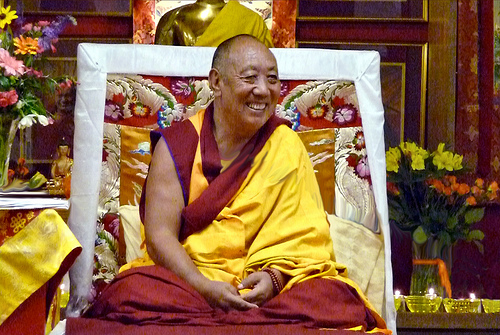 Gyudmey Khensur Lobsang Delek - currently, the 100th Segyu Khen Rinpoche;
Also, in Sera Je Monastery, Geshe "Uma Gyukpa" ( Foremost Scholar of the Middle Way )
____________________________________________________________________________________________________________________
My dearest students and CAS centre members,
It is extremely unfortunate I cannot come soon to be the resident Teacher at your new centre. His Holiness the Dalai Lama has appointed me to be the Abbot of Segyu Monastery. Segyu Monastery is a very great and famous monastery of Tibet, producing many realised scholars and practitioners since its inception. It is, in fact, the first tantric college of Tibet.
After exile, Segyu Monastery has suffered in terms of its practice and precious traditions so we are determined to revitalise the monastery.
Please don't worry as I would still be able to visit CAS 2 to 3 every year.
I will be sending one of the senior Geshes to be resident in CAS to impart teachings on my behalf. He is a great Lharampa Geshe whose many students run into the thousands in Sera Je. He is qualified to teach on all levels of the Dharma.
I have told him, "You must go to Malaysia ( and Singapore ) on my behalf." Geshe-la has already agreed.
So, there is no need to worry, dear students.
We will see each other very soon.

All my warm wishes to all of you. Keep smiling always.
Khensur Rinpoche
LOBSANG DELEK
___________________________________________________________________________________________________________________
Announcement: Enthronement of the 100th Abbot of Sed- Gyued Monastery
The confraternity of of the Sed-Gyued Institute of Buddhist Studies is glad to inform you that His Eminence Gyued-Med Khensur Lobsang Delek has been appointed the 100th Abbot of our monastery by H. H. the Dalai Lama.
The enthronement ceremony of the newly appointed abbot will be held at the prayer hall of Sed-Guyed Institute on November 2, 2011 at 10 pm, coinciding with the 10th Anniversary of the Monastery. All the friends, devotees and sponsors are cordially invited to attend the religious ceremonies on this special event.
_____________________________________________________________________________________________________
For our Frens:
Kadam Tashi Choe Ling




official newsletter of Persatuan Kadam Tashi Choe Ling Malaysia





Special Announcement

Dear Friends,

THE EASY PATH TO TRAVEL TO OMNISCIENCE.
By the First Panchen Lama Losang Chökyi Gyeltsen



We have the pleasure of announcing that our precious master, Venerable Dagpo Lama Rinpoche will be giving a commentary on the First Panchen Lama s fascinating short Lamrim work called The Easy Path to Travel to Omniscience: A Practical Exposition of the Stages of the Path , known in short as the Easy Path or De Lam in Tibetan.

The Tibetan term Lamrim means the stages of the path to enlightenment. It is a special set of instructions that includes all the essential teachings of Lord Buddha, structuring them in such a way as to facilitate comprehension and practice.

The first of this genre of Buddhist treatise was The Lamp of the Path to Enlightenment , composed by the great Indian Buddhist Master Atisha, an extraordinary scholar, teacher and meditator who was invited to Tibet by King Jangchub Wö in AD 1042. He played a leading role in the renewal of Buddhism in Tibet and his main Tibetan disciple, Dromtönba founded the Kadampa School of Buddhism which later evolved into The Gelugpa School.

Lord Atisha s Lamrim teachings have been passed down in an unbroken line from master to disciple until today. Venerable Dagpo Lama Rinpoche has received virtually all the transmissions of the Lamrim lineages extant today. He is a renowned and highly skilled teacher of these precious instructions.

We are extremely fortunate to have the privilege of hearing them from him for they can be readily used in solving the problems of daily life. Moreover, if we gain genuine realizations of the spiritual qualities taught in the Lamrim, we shall be able to resolve our problems definitively, achieve true inner peace and be transformed into people capable of helping countless living beings.

For this, we must first understand the benefits of the Lamrim, and develop a strong desire to practice it. Then by joyfully and patiently meditating according to the explanations given in these works, we will gradually experience the fruits of our Lamrim practice. Eventually we shall attain freedom from all suffering and the unchanging peace and happiness of enlightenment.

Thank you.

Yours truly,

KTCL committee

For other events happening at KTCL, please visit www.ktcl.org.my
Your e-mail address is in our mailing list by virtue of you being a past workshop participant, a patron, a customer, a visitor, or by your specific request. We appreciate any form of feedback about our e-mails to you. If they meet your needs (or not), do let us know. If you wish to be removed from our mailing list, you may click here to unsubscribe, or you may indicate so by replying to this e-mail. If you received this e-mail through a friend and would rather get updates from us directly, you are welcome to join our mailing list.
Contact KTCL - Tel : +603 - 7956 2899 | Fax : +603 -7956 7899 | ktclmalaysia@gmail.com | www.ktcl.org.my
__________________________________________________________________________________________________________________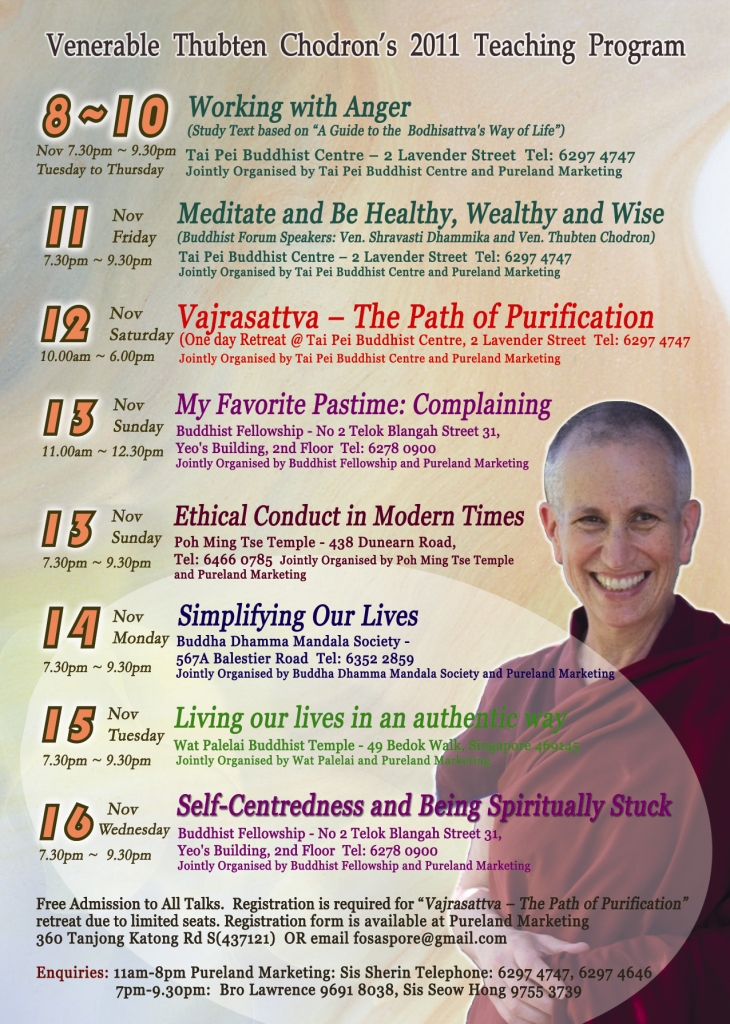 __________________________________________________________________________________________________________________
Special Announcement from Snow Lion Publication:
THE EXTREMELY SECRET DAKINI OF NAROPA:
Vajrayogini Practice and Commentary
by Pabongkha Dechen Nyingpo, translated by David Gonsalez

Restriction: The material in this book is restricted. This book may be read only by those who have received a Highest Yoga Tantra empowerment. In order to practice this material, the best situation would be that one has received the empowerment of Vajrayogini in the Naro Kacho tradition together with the commentary and oral transmission. At the very least, one must have received the empowerment of Vajrayogini in the Naro Kacho tradition.

The Extremely Secret Dakini of Naropa is the commentary to the practice of Vajrayogini in the Naro Kacho lineage composed by Kyabje Pabongkha as revealed to him directly by Vajrayogini herself. This text has become the basis for almost every subsequent Vajrayogini commentary in the Gelug tradition. Kyabje Pabongkha s commentary is both very thorough in its presentation and deeply inspiring. It provides rich detail about all eleven yogas of the generation stage, the transference of consciousness, tsok offering, left-sided conduct and many other auxiliary practices, making it essential for practitioners of Vajrayogini. There is also a stunning explanation of the completion stage, providing many extraordinarily profound methods unique to the practice of Vajrayogini because of its relationship to the Six Yogas of Naropa.

The second half of the book contains several sadhanas for the practice of Vajrayogini, including the extensive, middling, and concise generation stage, the practice of Vajrayogini combined with six-session guru yoga, as well as two sadhanas on the transference of consciousness.

Pabongkha Dechen Nyingpo (1874-1941) was a towering figure in the twentieth-century Gelug tradition; he was the root lama of Trijang Rinpoche as well as most of the Gelug teachers of the following two generations. His writings fill eleven volumes, and his practice texts and commentaries are considered authoritative.
The commentary may be ordered via CAS at
www.casotac.com
_____________________________________________________________
The great Pabongkha Rinpoche Dechen Nyingpo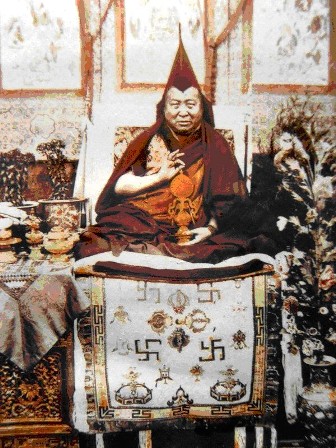 Kyabje Pabongkha Rinpoche, (1878 1941) was one of the great Gelug lamas of the modern era of Tibetan Buddhism. He attained his Geshe degree at Sera Monastic University, Lhasa, and became a highly influential teacher in Tibet.
Pabongka Rinpoche s full name was Kyabje Pabongka Jetsun Jampa Tenzin Trinley Gyatso Pel Sangpo, which means the Lord Protector, the one from Pabongka, the venerable and glorious master whose name is the Loving One, Keeper of the Buddha s Teachings, Ocean of the Mighty Deeds of the Buddha . He was also affectionately known as Dechen Nyingpo , which translates into Essence of Great Bliss or The King of Bliss from the Palace of Bliss , meaning a highly attained being who is already one with Heruka.
He was an extraordinary master for the Heruka Body Mandala and the Vajrayogini practice, and he had a special responsibility for the Mother Tantra.
There is a famous story of how Heruka actually appeared to Pabongka when he visited Cimburi in Tibet, where there is an image of Heruka. This is where the Blood drinker s mountains are and this name refers to Heruka Drinker of Blood. Apparently, Pabongka went to this place three times during his lifetime.
When he first went there, this image spoke to him, opened its mouth and a tremendous amount of nectar came out. Pabongka collected the nectar from the mouth of Heruka while in the presence of sixty or seventy people. This nectar was then made into nectar pills. The Gelugpa s current nectar pills originate from there.
It is also stated that this very same cave in Cimburi where Pabongka received the nectar from the Heruka image was the place where Heruka promised him the following:-
From now on, for the next seven generations, whoever practices my teaching, I will protect and help.
Pabongkha Rinpoche has nurtured some of the greatest Masters of Tibet including the late Ling and Trijang Rinpoches, both of whom having served as the Senior and Junior Tutors respectively of His Holiness the present Dalai Lama. Pabongkha Rinpoche shows His inconceivably high realisations of the Dharma through His personal practice, cultivation and bearing and especially through so many of His famed, amazing teachings. He is praised by the current Dalai Lama as "an amazing Master especially of the Lam Rim, the Lo Jong and the Chakrasamvara teachings." His many outstanding disciples themselves are also irrefutable attestants to His stature as a great Lord and Master of the Dharma.
Through His many writings and works, the objective eye cannot fail to be impressed by what appears to be a truly unquestioned authority and master teaching, all of which revealing unprecedented layers and depths, flawlessly inter-woven within elegant, unhindered beauty.
It is said that Pabongka s teachings are so famous that thousands of people would come from far and wide to attend, especially when he gave initiations or conducted special prayers during festivals. Pabongka is well known for using his humour to elucidate the teachings. As some teachings could go on for ten hours, he would intersperse his teachings with jokes and amusing stories laced with moral values to keep his audience awake .
One of Pabongka s great accomplishments was his ability to devise a way to attract and lead his listeners to every level of the Buddha s complex and highly technical teachings. On many occasions, he would address an audience that numbered up to several thousands of people, and yet everyone could hear him clearly. Back in those days, there were no such things as microphones or speakers. His voice was that powerful!
Pabongka s talks and teachings were known to have always left a profound and immediate effect on the listeners. A story that is worth highlighting is that of Dapon Tsago. He was a member of the nobility and had held a powerful position in the government that is equivalent to the Minister of Defence.
One day, this great general Dapon marched into the hall where Pabongka Rinpoche was giving a teaching, all decked out in his finest silks and with his long hair flowing in carefully tailored locks. At that time, this was considered the highest of fashion in Tibet. He had hung a great ceremonial sword from his belt and whenever he walked, it would make a loud clanging noise of importance, as if to announce his arrival. However, by the end of the first section of Pabongka s teachings, he was seen leaving the hall quietly, deep in thought. He had even wrapped up his weapon of war in a cloth to hide it, and was taking it home. Later, it was seen that he had actually trimmed off his warrior s locks. Finally, one day, he threw himself before Pabongka Rinpoche and requested for the special lifetime religious vows for laymen. From then on, he was seen to follow Pabongka around to every public teaching that he gave.
It is a well-known fact that people from Lhasa came to see Pabongka Rinpoche every day. They even had to queue up. Pabongka s popularity was such that even the Thirteenth Dalai Lama noticed. At that time, the Thirteenth Dalai Lama was very powerful, holding all political, economic, military and spiritual power in his reign. However, Pabongka had thousands and thousands of disciples all over Tibet from the three great monasteries of Sera, Drepung and Gaden, to the Government Officials, members of the Court and to the several thousands of lay people as well. Almost everybody was Pabongka s disciple. Hence, the Thirteenth Dalai Lama often observed Pabongka Rinpoche closely, but found no faults.
There was one incident in which Pabongka was summoned by His Holiness to prove that his Southern Lamrim Tradition called, Shargyu, was genuine. Somehow this tradition was not popular in Tibet at that time, and very little was known about it. Therefore, one could not find much proof of its source. It was not written anywhere in the regular texts studied in the monasteries. There were even talks amongst learned scholars of Pabongka introducing a strange system of a Southern tradition that he learnt from an old monk in some village in a corner of Tibet. Hence, people were trying to refute the authenticity of this Southern style Lamrim. In this respect, His Holiness had to do something to intervene and asked Pabongka to provide solid evidence.
The Southern Lamrim tradition was what Pabongka has studied under Dagpo Rinpoche. Being fiercely devoted to his Root Guru, Pabongka would not tolerate anyone disparaging his Guru s name or even remotely implying that his Guru was wrong in any way. So, Pabongka had to send a letter in reply to the Thirteenth Dalai Lama s questions.
At first, Pabongka did not think it was so serious. However, upon hearing that without concrete proof, he would have to declare that his newly introduced Southern Lamrim tradition to be a fraud and no one would be allowed to practice it, he was unwilling to risk any injury to his Guru s name. So, Pabongka thought for a while and then said to the Manager of his labrang, Under these circumstances, I shall reply. I shall dictate and you go ahead and take notes .
Then Pabongka quoted, The Buddha said in this sutra and that sutra and in the collected works of the Buddha in volume such and such this is written and right at this moment Your Holiness is sitting in your room and if you look at your back in the third shelf, open that book and read on page 146 at the back side the 6th line, there it says this, this and then, if you look at your left side, on the second shelf, the second volume number, this and this, pull that book out and there it says this, this, this& .
Pabongka continued, This is the proof from the Kanjur and if you read this book by Asanga which is available in Your Holiness s room on such and such a shelf in the outer volume whose colour is this, and the inner book is this, and then, if you look at line this, line that, page number this and this, you will find it. And from the Tibetan tradition, look in the works of your late Master, Purchog Jampa Rinpoche, in volume number four of his collected works, which is in Your Holiness s bedroom on such and such a shelf and the colour of the cloth is this and the page number is that.
Pabongka Rinpoche was so precise and confident in pointing out the details for His Holiness to find every piece of evidence to support his Southern Lamrim tradition. This letter was then given to His Holiness s Chamberlain to be delivered into the hands of His Holiness.
When the Thirteenth Dalai Lama read it, he asked his Chamberlain to take out the exact books and volumes as described by Pabongka in the letter. Everything was proved right. Then His Holiness asked his Chamberlain, Did you know and tell him I would be in this room? The Chamberlain answered, No. His Holiness did not comment any further.
In another incident, while Pabongka Rinpoche was giving a big teaching, he received an order from the Thirteenth Dalai Lama to make rain immediately. So, Rinpoche said to his disciples gathered there at that time that they should say the Lama Chopa. During the recitation of Migstema in the Lama Chopa, Pabongka directed his students in their visualization to create a cloud, and this cloud would in turn shower rain wherever that it was needed. True enough, rain started to fall where it was needed. Then after a while as the rain continued to fall, Pabongka made the rain stop as magically as he made it appear. It was said that on that very day, they got quite a good amount of rain.
Pabongka s unusual ability to teach was not an integral part of Tibetan culture. It is rather at the heart of the living transmission of the teachings of the historical Buddha from one great master to the next. It is, first and foremost, an oral transmission: the master teaches his gifted disciple continuously until the transmitted knowledge becomes the student s second nature.
Due to Pabongka s skill as a Gelugpa master, the Thirteenth Dalai Lama requested Kyabje Pabongka to give the yearly Lamrim teachings in 1925, instead of asking the Gaden throneholder (Gaden Tripa) as was customary. Usually the teachings lasted seven days, but these lasted for eleven days.
These were some of Pabongka Rinpoche s many amazing qualities.
This towering figure is unfortunately marred by His association with the dangerous spirit Shugden. According to Denma Locho Rinpoche, Pabongkha Rinpoche is able to "control" Shugden and to exhort Shugden to enact various activities to serve the Dharma. Rinpoche added that, for ordinary people lke ourselves to attempt to relate to Shugden on Pabongkha Rinpoche's level is impossible.
However, following a request by the Shugden oracle itself to compose a "Life Entrustment" text for it, Pabogkha obliged with a text and there were references in it to Shugden as an Enlightened Being - Lord Manjushri. From what we learnt from Geshe Ngawang Topden, a senior teacher at Namgyal Monastery, flowery poetics as such are a Tibetan token and are not meant to be equated with factual assertions. This however acts as a supposed "scriptural" basis by His latter disciples for hard-headed insistence of their supposed infallible position of refuge in Shugden as their supplanted icon of the Buddha, Dharma and Sangha.
In spite of His myriad illustrious Dharmic expressions, this constitute a "mistake", according to His Holiness the current Dalai Lama.
This was pointed out to Pabongkha by the 13th Dalai Lama and He subsequently, "officially" renounced Shugden: "... I have propitiated Shugden until now because my old mother told me that Shugden is the deity of my maternal lineage. I wish to inform you that henceforth, with intense regret (for what is past) and (with the intention of) restraining my faults (in the future), I will never again propitiate (Shugden) or make daily offerings and supporting prayers and that I will wholeheartedly keep this commitment in the core of my heart. Whatever mistakes I have committed until now, such as having become a cause for the mental displeasure of the Great Nechung Choegyal, contradicting the precepts of taking refuge and so forth, I request you, the supreme protector, who is especially compassionate to the lowly, to regard me with love and great compassion and patiently to forgive me." (
http://www.dalailama.com/messages/dolgyal-shugden/historical-references#phabongkhapa
)

Unfortunately, Pabongkha's good name has been dragged through more than a fair slate of mud and slime due to some of His disciples' continued supplication to this misguided and harmful spirit and their perpetuation of sectarian division. From disciples of Pabongkha who have met Him personally and received teachings from Him such as the late Sharpa Choje Lobsang Nyima, they expressed incredulous shock when we asked how an amazing Master like Pabongkha Rinpoche could supposedly incite violent sectarian attacks. According to the late Sharpa Choje, Pabongkha Rinpoche "did absolutely no such things". The Sharpa Choje continued, to them in the great monastic universities, Pabongkha Rinpoche has only taught the purest Dharma and has taught them only to have the sincerest veneration for all traditions of the Dharma and it was only when they were outside of Tibet that they have heard of claims and stories of Pabongkha Rinpoche's alleged sectarainism. For all His personal disciples, they could only shrug away claims as such as impossibilities having been personal disciples and studied at the feet of Pabongkha Rinpoche and knowing Rinpoche and His teachings personally. For disciples who personally had contacts with Rinpoche, sectarian talks and attacks attributed to Pabongkha Rinpoche simply could not be true as Rinpoche was never and could never be anything near so sacrilegious a matter.
In "Liberation in the Palm of Your Hand", Pabongkha Rinpoche wrote, "Abandoning Dharma is, in the final analysis, disparaging the Hinayana because of the Mahayana; favoring the Hinayana on account of the Mahayana; playing off sutra against tantra; playing off the four classes of the tantras against each other; favoring one of the Tibetan schools the Sakya, Gelug, Kagyu, or Nyingma and disparaging the rest; and so on. In other words, we abandon Dharma any time we favor our own tenets and disparage the rest."
Wild exaggerations and rumours that ran fantastically amok are definitely not unknown of, Tibetam Buddhism a fertile breeding ground by any standards. We have personally experienced more than our fair unfortunate share of these nasty little facets of Tibetan Buddhism.
For Beings @ CAS, like His Holiness the Dalai Lama, we believe that Pabongkha Rinpoche is a "great Teacher" of the Dharma albeit His earlier reliances on the bad ghoul.
So, we are glad to share with all, the above and reserving an honoured place for Pabongkha Rinpoche in CASonline.
p/s: The darker coloured fonts are culled from various sources and the lighter blue fonts are from ourselves.
____________________________________________________________________________________________________________________________________
tELL A fRIEND
"KNOW DHARMA; SHARE DHARMA !!"
Be part of our thousand++ "Friends @ CAS" ( that belongs to Chenrezig & other holy beings )
xxxxxxxxxxxxxxxxxxxxxxxxxxxxxxxxxxxxxxxxxxxxxxxxxxxxxxxxxxxxxxxxxxxxxxxxxxxxxxxxxxx
"I wanna number my days in samsara. sUBSCRIBE mE NOW !!"
Email contact@casotac.com
_______________________________________________________________________________________________________
See www.casotac.com ( available 24 hrs a day / 7 days a week )
CASonline - Your Buddhist online news and teachings.
( All online articles lovingly archived at http://www.casotac.com/casonline.htm )