Dearest Friends @ CAS,
We are glad to inform all of our coming Dharma programme with His Eminence Kyabje Tsona Rinpoche, immediately following Most Ven Drikung Ontrul Rinpoche's Dharma tour.
We have been requested by the Tsawa Khamtsen ( or Tsawa monastic hostel ) of Drepung Loseling Monastery to help to raise fund for their new prayer hall and monk quarters. Due to new arrivals from Tibet, Tsawa Khamtsen has not been able to house the many new monks as they have practically overflowed from the already overly-cramped old quarters. Loans from banks have been acquired to finance the new building and the interest rates have been astounding !
The many holy masters from Tsawa Khamtsen include HH the late 100th Ganden Trisur Rinpoche, the Honourable Kalon Trisur Professor Samdhong Rinpoche and His Eminence Kyabje Tsona Rinpoche.
We are especially appealing to all students of His Holiness the late 100th Ganden Trisur Rinpoche to help to raise funds for the new Tsawa Khamtsen. The Dharma programmes, have been organised, also, to help to raise funds for the new monastic building.
_____________________________________________________________________________________________________________________
His Eminence Kyabje Tsona Rinpoche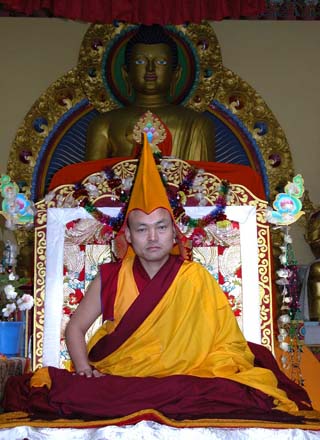 His Eminence Kyabje Tsona Rinpoche
Most importantly, do not miss the opportunity to create precious Dhamic connection with His Eminence who is one of the highest-ranking and most respected masters from the Gelugpa lineage. Our few contacts with His Eminence spanned years back when He visited Singapore as one of the official delegates with the Indian Prime Minister and also when His Eminence paid a private visit to HH the 100th Ganden Tri Rinpoche in Singapore to request for His Holiness's long-life, on behalf of the Drepung Loseling Tulku Association.
The last time we glimpsed Tsona Rinpoche was when He was displayed, enthroned beside His Eminence Kyabje Ling Rinpoche (incarnation of the Dalai Lama's Senior Tutor), His Eminence the Sharpa Choeje ( the second seniormost Head of the Gelugpa lineage ) and His Eminence the Jangtse Choeje ( now HH the 102nd Ganden Tripa ) and our Teacher, Loseling Khensur Lobsang Gyamtso, during the official opening of the huge Drepung Loseling prayer hall by HH the Dalai Lama.
His Eminence Tsona Rinpoche has also been one of the important masters who had recognised and enthroned past Dalai Lamas and His past emanations for the sake of the Dharma and all mother sentient beings has hailed from as far back as Nagarjuna's time and His Eminence has also emanated and acted as a contemporary of Lama Je Tsongkhapa Himself.
His Eminence has graduated with the highest scholastic honours as a Geshe Lharampa and is a key protector and propagator of the Dharma in the Himalayan regions. His Eminence has successfully initiated and is the head of extensive social welfare, educational, environmental and spiritual programmes in some of the poorest and most remote regions of India. His Eminence has acted as one of the trusted advisors to the Indian government in these areas and is the "precious Guru" to thousands of lay and ordained communities in the traditional Tibetan areas of Mon or Arunachal Pradesh.
He holds also the ancient title of "Huthokhthu", a title desginating the highest religious position and honours bestowed by past Dalai Lamas and the emperors of China. The Dalai Lamas and the Drikung Kyabgons hold the similar title of the "Huthokhthu".
This is, therefore, an invaluable opportunity to forge a precious Dharmic connection with a holy Bodhisattva and to receive blessings from Him.
bb & all frens
@ Phuntsok Cho Ling (CAS)
_____________________________________________________________________________________________________________________
His Eminence Kyabje Tsona Rinpoche's Dharma programme
Malacca
6 Dec (Friday)
- Teaching on the Bodhisattva's Perfections of Generosity and Ethics (8pm to 9pm)
- Empowerment of 21 Taras ( 9pm to 10pm)
7 Dec (Saturday)
- Teaching on the Bodhisattva's Perfections of Patience and Perseverance (8pm to 9pm)
- Empowerment of Six Arm White Mahakala (9pm to 10 pm)
Singapore
8 Dec (Sunday)
- Teaching on the Bodhisattva's Perfection of Meditation (7pm to 8pm)
- Empowerment of the Thousand Arms-Heads-Feet White Umbrella Sitatapatra (8 pm to 9 pm)
9 Dec (Monday)
- Teaching on the Bodhisattva's Perfection of Wisdom (7pm to 8pm)
- Empowerment of the Twelve Armed Great Red Ganapati (8 pm to 9 pm)
_________________________________________________________________________________________________________________
The Six Bodhisattva Perfections
The Six Bodhisattva Perfections constitute the fundamental practices of Application Bodhicitta and are indispensable practices for attainment Buddhahood. All Dharma and tantric practices taught by the Buddha are solely for the sake of these Six Bodhisattva Perfections, specifically the Sixth Perfection. Without proper understanding and engagement in these perfections, all Dharma or tantric practices are rendered obsolete and unfruitful.
The Twenty One Taras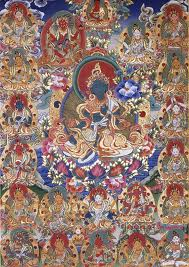 The main (green) Tara is seated upon a lotus arising from the waters of a lake, just as Tara is said to have arisen from the compassionate tears of Avalokiteshvara. Her right hand is in the mudra of supreme generosity indicating her ability to pro­vide beings with whatever they desire. Her left hand at her heart is in the mudra of bestowing refuge: her thumb and ring finger are pressed together to symbolise the united practice of method and wisdom, and the three remaining fingers are raised to symbolise the Three Jewels of Refuge – Buddha, Dharma and Sangha. In each hand she holds the stem of a blue utpala flower. Each flower consists of three blos­soms indicating that Tara, the embodiment of enlightened activities, is the Mother of the Buddhas of the past, present and future.
Tara is dressed in the silken robes of royalty. She wears rainbow colored stockings, a white half-blouse and various jeweled ornaments. These symbolise her mastery of the perfections of generosity, morality and so forth. The tiara fastened in her black hair is adorned with jewels, the central one is a red ruby symbolic of Amitabha, her spiritual father and the head of her Buddha family.
She is seated in a distinctive posture, her left leg withdrawn to symbolise her renunciation of worldly passion and her right leg extended to show that she is always ready to arise and come to the aid of those who need her help.
With a warm compassionate gaze she looks down upon each sentient being as a mother regards her only child. Her emerald-green color — related to the wind element and hence to movement — signifies her ability to act swiftly and with­out delay to bring benefits to sentient beings
( from: http://www.preciousteaching.org/practices/the-twenty-one-forms-of-tara-according-to-the-tradition-of-lord-atisha/ )
Six Arm White Mahakala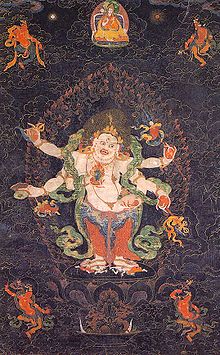 The six-armed White Mahakala is known as Wish-Granting Gem and is very popular in Gelugpas. This is the wealth aspect of Mahakala which specifically supports the comfort and economic well-being of tantric practitioners. His iconography is rich in symbols delineating his wealth-deity status. For example his skull bowl, rather than contain the mortal remains of his victims, is full of various jewels,and his crown is made up of five jewels instead of the trademark five skulls.
The following description is according to his sadhana:
His body is white. His face is wrathful and he has three eyes. His main right hand holds a wish-fulfilling jewel (chintamani) mounted on a jewel-tipped handle,in front of his chest.
The other notable departure from the normal Mahakala iconography is the elephant goad held in the center left hand, the sharp point of which symbolizes penetrating awareness.
Also, in contrast to other Mahakalas, he stands on two elephants rather than one. The elephant skin stretched at the back refers to the deity having torn asunder the pachyderm of ignorance.
Another interesting aspect of White Mahakala is that he is occasionally shown in the tribhanga posture. In this typical stance of the body, the head, torso, and legs slant in contrary directions. The legs and hips shift to the right, the trunk to the left, and the neck and head then again gently to the right. It is a lyrical, dreamy, very graceful pose. The three curves formed by the body symbolize the three worlds, upper, lower and middle, better known in Sanskrit as triloka. This is also popularly known as the posture of three bends.
White Mahakala is popular for both mundane as well as spiritual reasons, ranging from the basic desire for wealth and prosperity to the ultimate attainment of the precious jewel, which is none other than the Buddhist Dharma.
( from: http://www.thranguhk.org/buddhism/en_mahakala.html )
White Umbrella Sitatapatra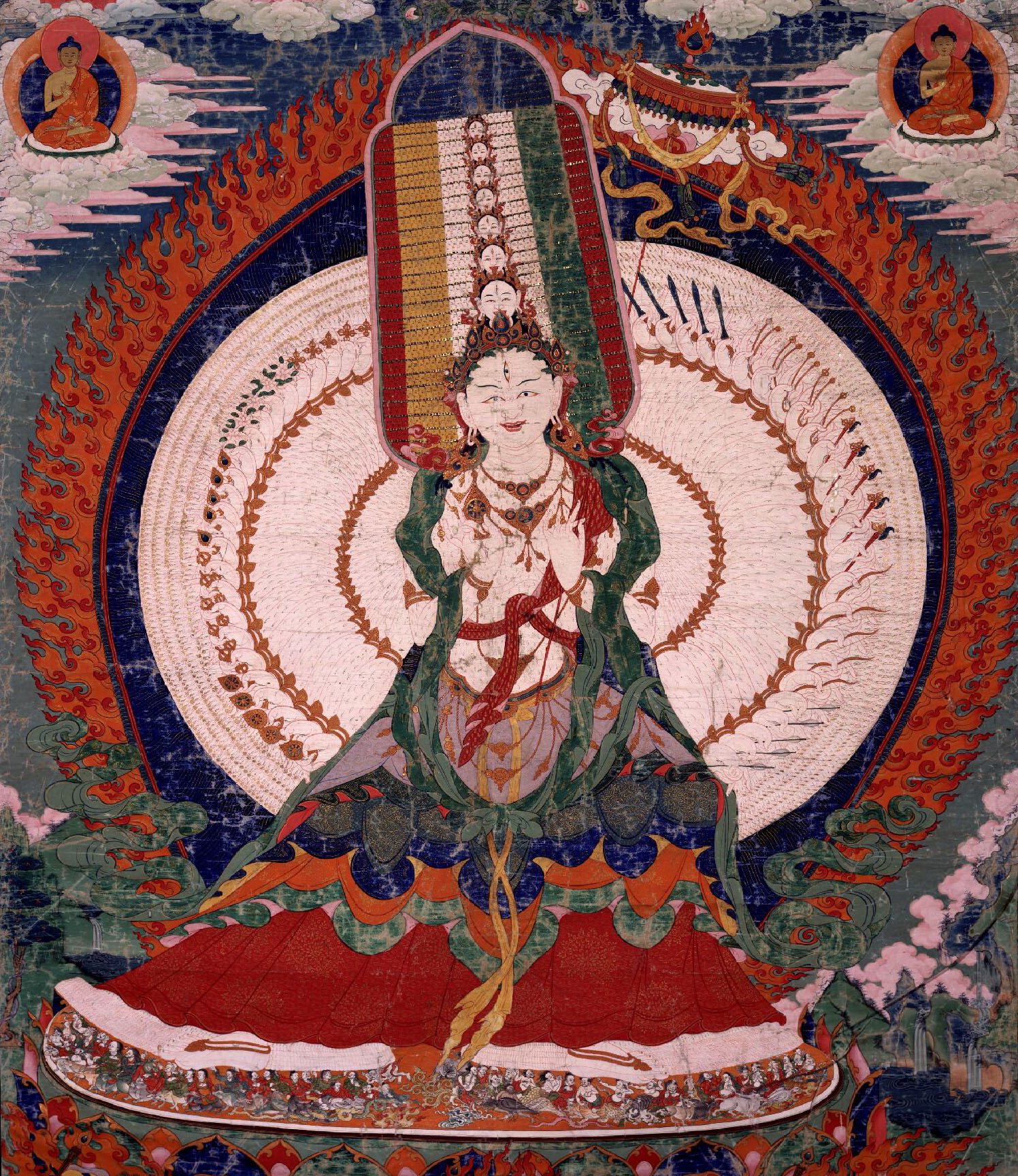 Sitātapatrā, one of the most complex Vajrayana goddesses.[12] According to Miranda Shaw in the "Buddhist Goddesses of India", Sitatapatra emerged from the crown of Shakyamuni Buddha's head when he was in Trayastrimsa heaven. The Buddha announced her role to "cut asunder completely all malignant demons, to cut asunder all the spells of others...to turn aside all enemies and dangers and hatred." Her benign and beautiful form belies her ferocity as she is a "fierce, terrifying goddess, garlanded by flames, a pulverizer of enemies and demons."
In the Mahayana "Sitatapatra Sutra", she is called "Aparajita" or "undefeatable" and is also identified as a form of goddess Tara from the "Vairochana" Buddha family and is also called "Mahamaya", which is also the name of Sakyamuni's mother before he becomes the Buddha.
In other sutras, she is regarded as a female counterpart to Avalokiteśvara, the bodhisattva of compassion. Like him, Sitātapatrā manifests in many elaborate forms: having a thousand faces, arms and legs, or simply as a feminine deity of great beauty. Known foremost for her "white parasol" she is most frequently attributed with the "golden wheel". The auspiciousness of the turning of the precious wheel is symbolic of the Buddha's doctrine, both in its teachings and realizations.
( from: http://en.wikipedia.org/wiki/Sitatapatra )
The Twelve Armed Great Red Ganapati
Ganapati in the Buddhist tradition is an emanation of Avalokiteshvara It is renowned as a powerful protector of the Dharma who gathers every favourable conditions and dispels obstacles to Dharma practice as well as one's worldly life.
Chogyal Phagpa's father, Sangtsa Sonam Gyaltsen, was a great practitioner who concentrated on Ganapati practice. At one point Ganapati appeared before him and lifted him up into space to the height of a mountaintop, saying: "Look below." But Sodnam Gyaltsen was afraid. After some time, he looked and beheld the three provinces of Tibet below. Ganapati said, "Whatever you saw, you will reign over. You saw the three Tibetan provinces, so your descendants will rule over those territories. But because you didn't look down the moment I told you to, you will not rule them yourself." Then he placed Sodnam Gyaltsen on the earth again. ( from:
http://www.hhthesakyatrizin.org/tradition_founder5.html )
_________________________________________________________________________________________________________________
Volunteers
We are looking for as many hands ( and legs ) as we could agther to help keep the programme going.
Posts avaialble include admin-registration, texts-pictures distribution, food distribution, IT work.
__________________________________________________________________________________________________________________
Money
Texts and picture printing / food and transport of Rinpoche and entourage ( air and land ) are sponsored for all students and are also up for sponsorship, full or partial ( !! )
Accomodation is arranged at a reasonably clean and comfortable budget hotel 5 min walk from the centre. Laundry and pharmacy services are all wihtin walking range of the centre.
Tsona Rinpoche's programme at Malacca follows immediately Ontrul Rinpoche's programme after 5 Dec.
__________________________________________________________________________________________________________________
Venue at Singapore
Poh Ming Tse Temple
438 Dunearn Road
Singapore 289613
Getting here
By Driving:
1A.
From West, exit PIE into Eng Neo Avenue, then turn LEFT into Dunearn Road.

1B.
From East, exit PIE into Adam Road, then turn RIGHT into Bukit Timah Road. After
Duchess Road, keep RIGHT. When near Hwa Chong Junior College, U-turn into Dunearn Road.
2.
Along Dunearn Road, keep LEFT. After Watten Estate Road, turn LEFT into
Shelford Rd. Slow down before entering the basement car park on your LEFT.
By Bus:
1.
From West, alight at the bus stop right after Watten Estate Road and Shelford Road.
2.
From East, alight at the bus stop in front of Coronation Plaza and use the overhead bridge to cross the road. Then walk against the traffic flow until you reach Shelford Road.
Bus Number: 66, 67, 74, 151, 156, 157, 170, 171, 174, 540, 852, 961
By NorthSouth-Line MRT:
1.
Alight at Newton MRT Station.
2.
Take 'Exit A' to Scotts Road.
3.
Take TIBS Bus No. 171 heading towards Bt Timah Road.
4.
Alight at the 8th bus stop, in front of Coronation Plaza and use the overhead bridge to cross the road.
5.
Then walk against the traffic flow until you reach Shelford Road.
By Circle-Line MRT:
1.
Alight at CC19 Botanic Gardens MRT Station.
2.
Take 'Exit to Botanic Gardens'.
3.
You can either walk for 10 -15 min or take 66, 67, 74, 151, 156, 157, 170, 171, 174, 540, 852 or 961 heading towards Bt Timah Road.
4.
Alight at the 2nd bus stop, in front of Coronation Plaza and use the overhead bridge to cross the road.
5.
Then walk against the traffic flow until you reach Shelford Road.
__________________________________________________________________________________________________________________
Venue at Malacca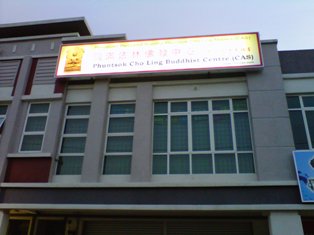 Dharma centre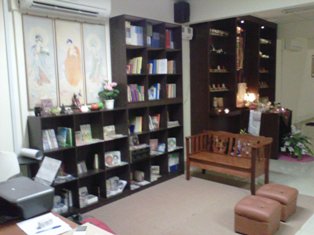 Library corner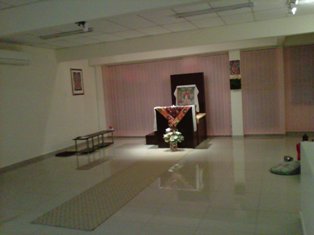 Dharma hall
Phuntsok Cho Ling Buddhist Centre (CAS)
It is 15 min by cab from Melaka Sentral, the main bus station in Malacca.
Malacca is 2 and a half hrs' drive from Singapore.
_______________________________________________________________________________________________________________________
Tsona Rinpoche
A brief biography of H.E. Tsona Gontse Rinpoche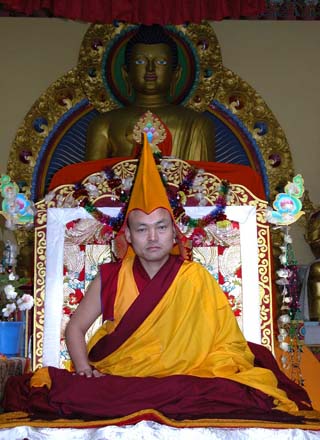 13th Tsona Gontse Rinpoche
During his lifetime the famous teacher Nagarjuna prophesied, "I pray that I may go to Tibet for the purpose of sentient beings there and at that time, you will be among the first group to be trained".
Arya Nagarjuna
Accordingly, when his religious activities attained the highest level in Tibet, Khedrubje, the direct disciple of Je Tsong Khapa (the founder of Gelugpa sect) was born as Rigpai Khujug in India. Rigpai Khujug received the profound teachings of Nagarjuna. Je Tsong Khapa and Nagarjana are believed to be of one and the same mind but in different manifestations.
It has been prophesied in the Sutras that Nagarjuna would be reborn as Jangsem Norsang. Thereafter at the time of early diffusion of Buddhism in Tibet he would be born as Kawa Drimedo. He would invite many expert Panditas from India and translate their teachings into Tibetan and thereby spread Buddhism to a great extent.
Again, during the period of the later diffusion of Buddhism in Tibet he was reborn as Nyoton Choebar, who would develop and spread the teachings of Atisha like that of rays of the sun. As prophesied by Geshe Potawa, he erected a great monastery at Yal. He passed away at the age of 63.
It has been said that during the first 21 days after his demise, amazing miracles took place. Many self-arising Buddha statues appeared (at his cremation) and the mandala of Chakrasamvara is said to have also appeared inside the kapala (skull cup) and the 21 Taras outside. Furthermore, a figure of white Miyova is said to have appeared on the right shoulder and Avalokiteshvara on the left. A number of relics were also recovered from his tongue, heart and eyes.
Chakrasamvara
Later he was reborn as Lhari Denod Zinpa. He studied and practised the instructions of Chakrasamvara later had a vision of the mandala. In his will, he said, "Twenty one to twenty two years after I die, the embers of buddhadharma will flourish a little more".
Tsonawa Sherab Zangpo is regarded as the reincarnation of Lhari Denod Zinpa. At the age of twenty one, he re-invigorated the buddhadharma as a whole and more particularly insisted on giving importance to the code of discipline laid down in the Vinaya. He became an unparalleled and unrivalled master.
In the Phelchen Sutra it says, "In the place called Zhiwa Rinchen Choe-kyi-ling where the lake of three realms lie, Tsonawa will be born. This region will become a place of learning. He will be able to dispel the darkness of ignorance and prove to be a great leader of sentient beings to lead on the path of Enlightenment." It is evident from this text that he derived his first name 'Tsona' from the name of the place and Sherab Zangpo was his ordination name.
Je Tsong Khapa said, "There is no text written that is better than Tsonawa's Tsotrig Nyimay Odzer and there is no need of another text!" Saying so he proclaimed Tsonawa as a highly qualified master and called him "dul ba 'bum sDe mNga bdag Tsonawa" (the master of Vinaya).
Later on the great Tsonawa Sherab Zangpo, reincarnated as Jetsun Sherab Zangpo and then as Tsultrim Tashi who reincarnated as Lobsang Tenzin, who then reincarnated as Tenpa Gyaltsen and as Khantse Wangchuk, then as Tenpa Gyaltso, then as Lobsang Paljor, then as Lobsang Wangchuk, then as Ngawang Choekyi Wangchuk, then as Thinley Jampal Tenzin Wangchuk and as Thupten Jampal Wangchuk.
Thupten Jampal Wangchuk was born at Morshing, in the Mon region of Arunachal Pradesh, in 1903. He mastered all the Sutras and Tantras and was a renowned figure in the Buddhist world. He passed away at the age of 63.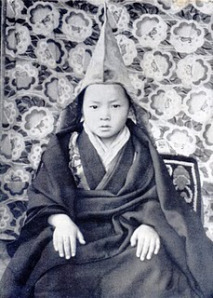 Rinpoche as a child.
The present Tsona Rinpoche, His Eminence Jetsun Tenzin Jampal Wangchuk is revered as the re-incarnation of Thupten Jampal Wangchuk. He is regarded as the 13th reincarnation of the great Tsonawa Jetsun Sherab Zangpo. He was born on 19th August 1967 at Nyesar Zhungpa Tse, Mon Tawang in Arunachal Pradesh. He was recognized as the reincarnation of Lama Thupten Jampal Wangchuk by His Holiness the 14th Dalai Lama. He started his education at Drepung Loseling Monastery, South India and in due course became well versed in all the Buddhist treatises. He graduated with the degree of Geshe Lharampa (Degree equivalent to Doctorate in Buddhist Philosophy) from Drepung Loseling Monastery.
After the completion of his studies he became the President of the Himalayan Buddhist Culture Association. As the President of the Association he worked towards the development of mutual relationships between various cultures and religions of India and endeavored towards preservation of flora and fauna to maintain a peaceful environment of co-existence of all sentient beings. Furthermore, he assumed the great responsibilities of developing the religious shrines and cultural practices and activities in the Mon region. Numerous monasteries, educational centres, stupas and cottage industries established by him are testimonies of his accomplishments.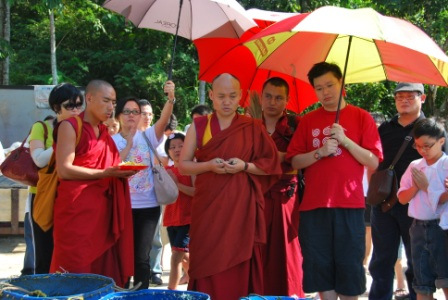 Rinpoche performing the Liberation of Life ritual.
He was the Minister of State, Industry, Textile and Handicrafts and Cabinet Minister of Tourism, Chairman of Advisory Council for Tourism Development (ACTD), Govt. of Arunachal Pradesh during his different tenures respectively. At present, he holds the position of Chairman, Department of Karmik & Adhyatmik Affairs, Government of Aruanchal Pradesh and Chairman, Arunachal Pradesh Hydropower Development Corporation, (APHPDC). He is internationally recognised as an excellent social worker and fully accomplished spiritual master. He has received several national and international awards for his tireless efforts and social work for the well being of people around the world.
Rinpoche also had the privilege of attending the Millennium UN World Peace Summit at the United Nations Assembly Hall as the first ever Buddhist representative from the entire Himalayan region. He regularly visits different countries around the world for dharma activites.
___________________________________________________________________________________________________________________
"KNOW DHARMA; SHARE DHARMA !!"
Be part of our thousand++
"Friends @ CAS"
( that belongs to Chenrezig & other holy beings )
Xxxxxxxxxxxxxxxxxxxxxxxxxxxxxxxxxxxxxxxxxxxxxxxxxxxxxxxxxxxxxxxxxxxxxxxxxxxxxxxxxxx
"I wanna number my days in samsara. sUBSCRIBE mE
NOW
!!"
FACEBOOK - http://www.facebook.com/casotac.singapore
CASonline - Your Buddhist online news and teachings.