Dear Friends,
The beings @ CAS are awfully glad to announce the visit to Singapore of a realized being --
the great Bagyod Rinpoche.
It is a truly rare opportunity out of all our lives in samsara to meet with a living Bodhisattva !!
Whilst basking in fitful joy over CAS 's hosting of a living Bodhisattva, all the beings @ CAS mourn
the indefinite postponement of the teaching-programme of most venerated Kalsang Rinpoche, one of the closest disciples of HH Penor Rinpoche, due to unforseen visa complications in Taiwan --
Anyway, looking forward to a blissful & blessed programme with the great Bagyod Rinpoche,
bb & other
@ CAS
[ sorry.... by the way, this is a lame icon of a ghost-cum-monster to- be ]
___________________________________________________________________________________________________
The 8th Bagyod Rinpoche
16 to 18 December 2005
The 8th Bagyod Rinpoche is recognized as the incarnation of a sublime Master by HH the late 16th Gyalwa Karmapa.
Since young, Bagyod Rinpoche has manifested signs of His highly-attained Enlightened qualities through leaving footprints in solid rocks, Mind-Reading and other such inconceivable qualities.
Bagyod Rinpoche received a complete religious instructions and training from HH the present Dalai Lama, the late 16th Karmapa, the late Dilgo Khyentse, the late Kalu, the 4th Dodrupchen and some of the greatest living Masters of the century.
Between 1983 to 1984, whilst on a trip to Tibet, so as to generate faith in students in Tibet, Bagyod Rinpoche again manifested His mastery over worldly phenomena by leaving 7 to 8 hand and foot prints in solid rocks. These sites, made sacred through Rinpoche's blessings have become known areas of pilgrimages and healings to thousands of faithfuls.
It is a centuries-old Buddhist ideal-manifestation, particularly within the Tibetan tradition, for Realized Beings to explicit, where appropriate, their mastery over worldly phenomena, through leaving their hand-prints and / or foot-prints in solid rocks, these extraordinary feats being equated to an authentic Realization of Emptiness, hence Enlightenment --
Lord Buddha Shakyamuni Himself, the great Guru Padmasambhava, the lineal Karmapas and more recently, Sertha Khenpo Jigme Phuntsok and soon-to-arrive, the great Bagyod Rinpoche, have all manifested their great Realizations through showing complete control and power over our illusory-like worldly phenomena.
For decades, Bagyod Rinpoche has devoted Himself completely to the care of all the Tibetan refugees under His care in south India.
In spite of His great healing powers and inconceivable "miraculous" acts for the good of the holy Teachings and all beings, Rinpoche has always remained as a beacon and ocean of compassion, humility, faithfulness, devotion and the conduct of a totally renounced, simple Yogi of old.
Bagyod Rinpoche is one of the main hosts of HH the 17th Karmapa, Urgyen Thrinley Dorje, during His Holiness's tour to south India in 2005.
Edited and excerpted from http://www.geocities.com/tdspj/bio/bagyud.html
____________________________________________________________________________________________
Following highly-successful teaching tours in East Asia that includes Hong Kong, Taiwan and Malaysia, the beings @ Chartiable Assistance Society ( CAS ) are blissfully honoured to be Rinpoche's host on His first Teaching-Tour in Singapore.
___________________________________________________________________________________________
| | | | | | |
| --- | --- | --- | --- | --- | --- |
| | Dharma Programme | Day | Date | Time | Venue |
| 1 | Yamantaka Teaching and Initiation | Friday | 16 December | | NACC Auditorium |
| 2 | Milarepa Puja | Saturday | 17 December | | NACC Auditorium |
| 3 | Milarepa Initiation and Blessing | Sunday | 18 December | to | NACC Auditorium |
For enquiries, please contact:
- 92960967 / 98569721 / 92708080 ( mobile )
- Website: http://www.geocities.com/cas_sg/
Venue Sponsor :
Ngee Ann Cultural Centre
(NACC)
Teochew Building
97 Tank Road, Singapore
_____________________________________________________________________________________________________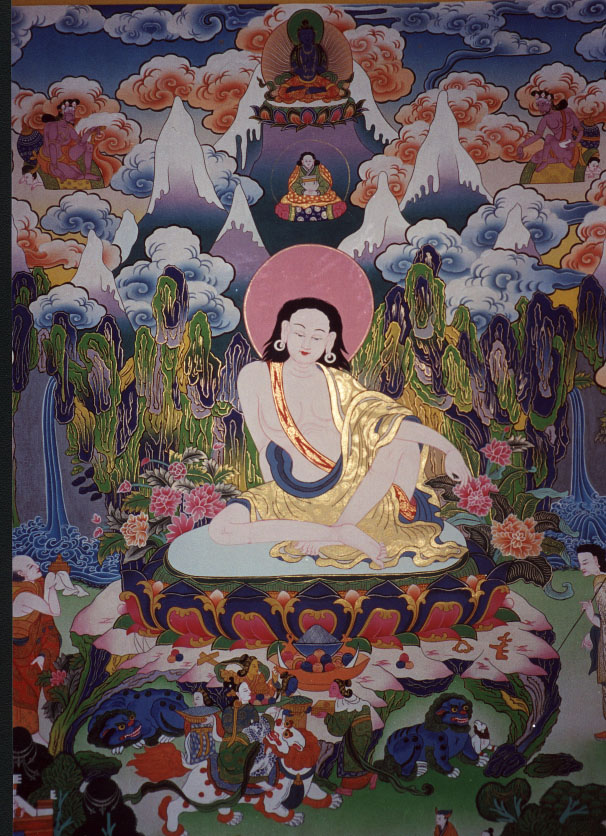 The great Yogi of Tibet
Milarepa: the "Laughing Vajra"
Milarepa is one of the most beloved Tibetan Saints.
In a superhuman effort, he rose above the miseries of his younger life and with the help of his Guru, Marpa the Translator, took to a solitary life of meditation until he had achieved the pinnacle of the enlightened state, never to be born again into the Samsara (whirlpool of life and death) of worldly existence.
Out of compassion for humanity, he undertook the most rigid asceticism to reach the Buddhic state of enlightenment and to pass his accomplishments on to the rest of humanity. His spiritual lineage was passed along to his chief disciples, Gambopa and Rechung. It was Rechung who recorded in detail the incidents of Milarepa's life for posterity. The narrative of his life has thus been passed down through almost a millennium of time and has become an integral part of Tibetan culture. In addition to Rechung's narrative of his life, summarized below, Milarepa extemporaneously composed innumerable songs throughout his life relevant to the dramatic turns of events of himself and his disciples in accordance with an art form that was in practice at the time. These songs have been widely sung and studied in Tibet ever since and have been recorded as the Hundred Thousand Songs of Milarepa. His faithful devotion, boundless religious zeal, monumental forbearance, superhuman perseverance, and ultimate final attainment are a great inspiration today for all. His auspicious life illumined the Buddhist faith and brought the light of wisdom to sentient beings everywhere.
According to a blessing Milarepa uttered towards the end of his life, anyone who but hears the name of ???Milarepa????━?:: even once attracts an instant blessing and will not take rebirth in a lower state of existence during seven consecutive lifetimes. This was prophesied by holy Masters and Buddhas of the past, even before His lifetime ---
For the complete Life-Story of the great Yogi-Saint Milarepa:
About Yamantaka
According to the Tibetan Buddhist Tradition, Yamantaka is the emanation of Buddha Manjusri. He appears in an overwhelmingly wrathful aspect.
His role is similar to that of sometimes angry parents towards their wayward offspring but are nevertheless always motivated by loving care and concern
for their children.
Yamantaka's terrible wrathfulness is directed at our inner and secret defilements of attachment, anger, ignorance and self-cherishing attitude. Being utterly opposed to attachment, Yamantaka acts with objectless equanimity towards all; being the great enemy of anger, Yamantaka acts with supreme love towards all beings; being the victor over ignorance, Yamantaka directly cognizes Emptiness and possesses the highest wisdom that perceives the best manner of liberating all beings; being the antidote to Self-cherishing Attitudes, Yamantaka cherishes all beings above Himself;
As an Enlightened Buddha, His apparent fury is never directed against any beings although He is known to accomplish the swiftest destruction of outer, inner and secret obstacles.