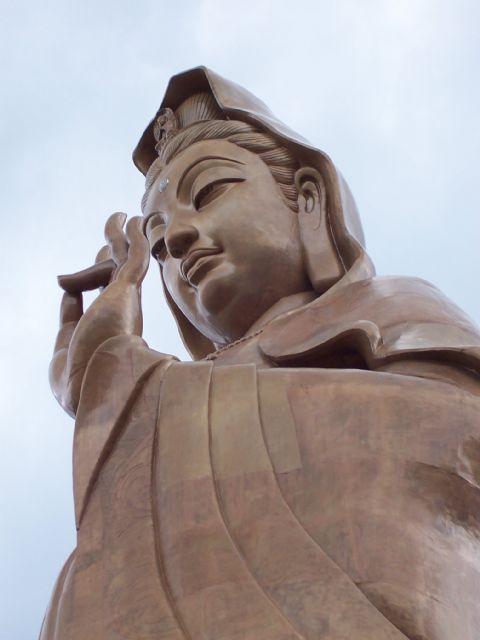 Holy Bodhisattva of Compassion
One who surveys the world with mercy
in the gesture of Fearlessness
______________________________________________________________________________________________________
Dearest Friends @ CAS,
Apologies for the long absence of nearly 3 weeks ( !! )
Camden Education Center
Camden Education Center has been kept horrifyingly busy with major examinations of its nearly-a-hundred students: PSLE / "O" Levels / "A" Levels --
Criss-crossing the FULL mounted preparations with TALKS cum counselling, many ( though not 100% !! ) students have shown marked improvements in their work --
Do keep them in your prayers and wishes .... the students, the parents and never forgetting, the Teachers !!
Our precious Masters
The last 3 weeks, too, marks the visit to Camden of 2 of CAS's very precious Masters: Lho Kunsang Rinpoche ( the Teacher of Jet Li amongst the thousands of disciples in Tibet and the world !! ) as well as Kalsang Rinpoche ( the former resident Teacher of the local Nyingma Palyul Centre ) --
CAS's friends are truly blessed to be infused with the noble and holy presence of these Masters whom in turn, offer their staunch support and joy to our work, particularly, expressing great happiness at CAS's "Ri-mey" - Non-Sectarian -- stance --
"........the circle of people who can grasp and practise the whole corpus of the Buddha's teachings is limited even in the Land of Snows, which today is in a state of crisis......
the brunt of the responsibility therefore is on the ecumenical ( "Ri-May" ) religious centers and their subsidiary colleges in exile...... " -- His Holiness the Dalai Lama
To date, Camden has been awfully honoured to be blessed with the holy presence of the 84th Nyingma Kathok Throne-Holder ( technically, the Head of the most ancient Nyingma monastery - the Kathok Dorje Den ), the Kagyu College Principal, a senior Khenpo from the prestigious Sakya Dzongsar Institute ( who took English class too !! ), the Ngorpa Qu Mu Tulku, the Grand Abbot of Drepung Loseling ( as prophesied by Je Tzongkhapa Himself -- the foremost Gelugpa monastery ), the great Palyul Khenpo Tsering Dorje --
All goodness and blessings are completely dedicated to all our friends ( within and without ) CAS .... all of whose support and kindness CAS / Camden is deeply indebted to all the years --
____________________________________________________________________________________________
Prayers
The Truth of Impermanence lunged upon too with signature random, claiming 2 of CAS's beings' grandfather and cousin within span of one week and looks poised to strike again soon --
We pray to drink and ingest from the deep wisdom what Truth manifests as Impermanence;
We pray to train our minds to generate authentic Renunciation of the illusory sufferings and joys of samsara and the generation of Bodhicitta to all mother beings gasping in its grip --
____________________________________________________________________________________________
This issue --
THE HEART
This issue offers the HEART of the Buddha's Teachings, that of the Four Noble Truth / The Three Marks of Existence / the Noble Eughtfold Path --
We have extracted the above from a magnificently excellent website:
This will be the second of the second Dharma series [ the first series being the 6 Lam Rim Online series as taught by the Most Venerable Denma Locho Rinpoche's blessed exposition on the Three Principle Aspects of the Dharma:
http://www.casotac.com/casonline.htm
]
Leading all the way up to and as an extension of our continued, planned hosting of the sacred Longchen Nyingthig from Guru Padmasambhava, we offer this and the following issues --
Along the way, are scheduled for release, THE Sakyapa's presentation of the Four Noble Truth by Qu Mu Tulku, a monumental interview with Masyer Hsing Yun, a highlight on a Grand Master in the form of the late great Kalu Rinpoche --
[ So, for your friends who are not yet subscribed to CASonline, drop us an email !! ]
A note to all, the Palyul Khenpo Tsering Dorje will not be visiting end of 2007 but will instead come early 2008 to continue with the blessed Cycle of the Longchen Nyingthig --
____________________________________________________________________________________________
An important appeal
Holding on, in the meantime, are several appeals from our dear friends, many of which we are so ashamed not to be able to send off on their behalf due to overwhelming traffic, fizzy technicalities and what have you !!
It truly becomes difficult once bombarded with overflowing smashes of requests.... we will but try our best still --
Jumping the queue, so to say, we are appealing to all the below:
Venerable Gen Karma Khedrup from the Library of Tibetan Works and Archives has embarked on an important project to chronicle one of Tibet's last precious cultural relic --
__________________________________________________________________________________________
We are reproducing in full, Venerable's letter:
Dear BB Tan-la and the Society members,
I am writing to you regarding my second project I have been working on personally for some years to perpetuate an interesting aspect of the vast and ancient Tibetan culture. As you know, after fleeing from the Chinese occupation of Tibet, a main priority of both His Holiness the Dalai Lama and the Tibetan Government-in-exile has been to preserve the unique Tibetan ancient knowledge and living cultural tradition. For this reason the majority of Tibetans were given the opportunity to live together in agricultural settlements in various parts on India and they are the only focal point where at this stage our culture inheritance can be maintained and continued because, as you know, in the process of cultural genocide, it has been systematically destroyed in Tibet itself.
Having this in mind, and remembering the particularly interesting and fast dying-out customs of the Ngari Rongchung (Western Tibet) region, in which the village I come from is situated, I have been researching and recording such cultural activities from older Tibetans who still remember and perform them, with a view to continuing and passing them on to present and future younger generations. Since this activity is no longer possible in Tibet, it can only be done amongst exiled Tibetan, chiefly those in India.
Being from the Ngari Rongchung area myself and still having older relatives, and also knowing most of the other surviving people, I have taken it upon myself, as a personal endeavor, to interview such people, record what they have to tell, as well as recording and videoing their folk songs and dances. These have never in the past been either written down or recorded, but were only retained in the memory of some elders, who orally transmitted them from one generation and lineage to another. There are still some Tibetans in exile (as well as in Tibet) who are living repositories of such ancient cultural knowledge, but as time passes they are passing away and very few at present remain.
Since beginning this work in my spare time since 1988, I now have nearly two hundred hours of video and audio tape recorded material, of such personal interviews and actual songs (never either recorded on video or written down before). I now have edited two different Videoing tapes one entirely on Cultural Tradition performances (having customs and ornaments) (78min) and other one is songs on win Drinks with some harvesting songs etc. (60min). The written down materials are being published a book, and they are made now available without cost to interested people. Now, my second project is ready to publish for two videoing tapes of such material, so that they can be also made available for free distribution to the Ngari Ronchung region people and Tibetan schools. In the beginning it is planned to publish one thousand (500x2) copies, the cost of which will be approximately rupees thirty five thousand (Rs.35000/-) in low quality. The video recorded tapes to go along with the book d I am quite confident that this will benefit many people now and in time to come. However, to accomplish these objectives, financial assistance is needed, since I have been doing this work privately in my spare time and holidays, at my own expenses and without any funding whatever. I may say that the Ngari Rongchung people, who have freely shared their traditions with me, are very supportive of this project, but being simple agricultural workers, chiefly in Mundgod Tibetan Settlement, they cannot help financially, though are very generous in giving me their time and knowledge.
Jeff-la, knowing your interest in the preservation of Tibetan culture, I am approaching you in this matter, with the earnest hope that you will find it possible to assist. I can, of course, assure you that any donations received will neither be wasted nor misused, and that I will be extremely grateful for your financial assistance and participation in this project.
With respectful prayers,
Yours sincerely,
Karma Khedup (Ven.)
C/o Tibetan Library,
Dharamsala-176215,
Kangra, H.P.,
___________________________________________________________________________________________
We really hope and pray for the generous support of our friends, if anything, for Tibet and her people ..... !!
You can send your contributions, however much, through CAS, via the following channels --
A) Cash - Camden Education Center [
www.camden.edu.sg
] ( call 64686835 before coming !! )
B) Crossed Check to "Charitable Assistance Society"
[ Posted to 170 Upper Bt Timah Road, Bt Timah Shopping Centre, #B1-27, S(588179) ]
C) Funds Transfer: DBS Current Account - 022-900386-5 ( Email to alert upon transfer )
With clasped palms,
"Namo Amituofo !!"
bb & all frens @ CAS of Guan Shi Yin Pu Sa