Dearest Frens @ CAS with Phuntsok Choling !!
Your 1st issue of CASonline in 2012
Omen
bb is dead excited to be back after an absence of 4 long months .... this has been reflected in his dreams of bad insidious threads cheekily and stubbornly tied around his hands and fingers, keeping him from writing Buddhist things to many frens anxiously waiting for CASonline.
( The threads did not manage to stop his Chopin Ballades and Etudes though. )
Surprisingly, bb appeared quite relaxed and much in-control through it all and who continued with his Guhyasamaja sadhana in the dreams and of course, 4 months, it seems, is all the threads could stop CASonline from peeking into your screens.
What the "threads" could not stop
You could be assured too that a myriad matters are being done behind the blank screens: our many trips to and from Malacca, Putra Jaya, Kuala Lumpur and Batu Caves: the malaysian abode of Lord Murugan.
Most importantly, the more than 200 kilograms of nearly-butchered fishes kindly dropped into the unending pools of reservoirs ( as instructed by the Kathok Khenchen Lhoga Rinpoche: " .... the best possible thing one could do .... " ) in front, behind and diagonal to Phuntsok Choling.
Then, there are the days and days of formal and informal Tara retreats ( as instructed by His Eminence the incomparable Garchen Rinpoche ) and the many, many, many long pujas of Palden Lhamo - Queen of the War Sickle ( as instructed by our late precious Root Teacher, His Holiness the 100th Ganden Trisur: "..... to rely on Palden Lhamo with complete faith ... " ).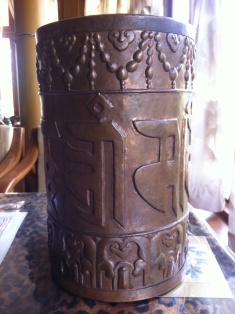 Besides, ALL OF YOU @ CAS with Phuntsok Choling have helped to put up 108 prayer wheels at Tso Pema, one of the holiest shrines of Guru Padmasambhava, fulfilling the holy wishes of Most Ven Drikung Ontrul Rinpoche.
( "Dear BB tan @ CAS, Please forward this picture to everyone. This is the prayer wheel. We will be putting up 108 of it. It is 1 foot in height. Thank you." Aka Rinpoche, on behalf of Drikung Ontrul Rinpoche )
So, here we are, rejoicing always and plotting for our next trip to Putra Jaya to deal with the ultra sticky malaysian immigration petty chieftians or to Myanmar, Laos or other places in Jambudvipa to share what we got and what we could with our mother beings.( as instructed by -- what we believe -- BODHICTTA !! )
Always in the same Pure Land with Holy Mother Green Tara,
bb & all frens with freed fingers @ CAS with Phuntsok Choling
p/s: "Om Tare Tuttare Ture Soha !!" ( X infinite* )
*Defined as the equivalent of the state where so long as even one suffering mother sentient being remain in samsaric confusion.
____________________________________________________________________________________________________________________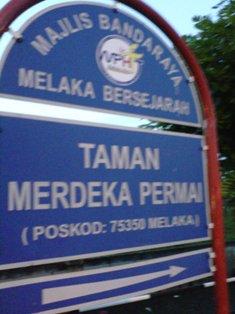 Sign indicating the way to Phuntsok Cho Ling ( CAS ).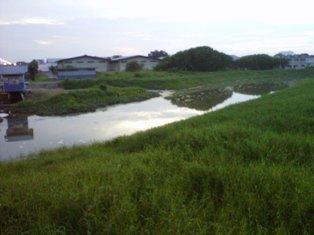 Behind Phuntsok Cho Ling ( CAS ) is a long, huge pool of semi-polluted waters connecting so many rivers and streams in Malacca. Many of our released mother fishes swim free now. The river has been blessed with holy Mani pills from HH the Dalai Lama, Accomplishment Pills from Most Ven Drikung Ontrul, blessed pills from His Eminence, the incomparable Garchen Rinpoche and other such great Bodhisattvas !!
The beautiful river diagonal, to the right, 3 minutes away from Phuntsok Cho Ling ( CAS ). The watery abode of so many mother fishes liberated from the cruel blades of the Department of Fish and Other Cruel Food of the super malls Tesco, Jusco and Giant in Malacca.
Phuntsok Cho Ling ( CAS )'s homely and comfortable library corner. Gratitude to Ven Hai Tao's centre ( Singapore ), Singapore Buddhist Lodge, Ven Dhammika and so many friends for supplying all the holy books and CDs which we delivered to Malacca in 4 car-full boots, 4 times. May they be of the greatest and highest good to all !!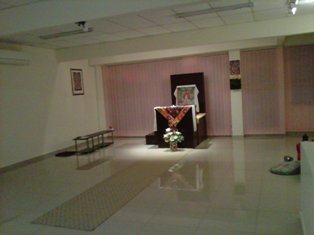 The beautiful teaching hall of Phuntsok Cho Ling ( CAS ), awaiting our resident and visiting Teachers to turn the holy wheel of Dharma for the greatest and highest good of all !!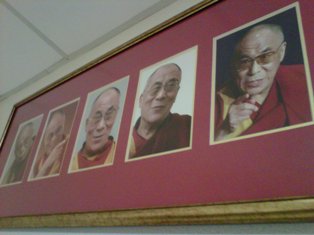 Phuntsok Cho Ling ( CAS ) will be barren if not for our benefactors, Mr and Mrs Tey ( Lobsang Nyima and Lobsang Dawa ) who gave us the centre, and all of you who gave us the beautiful hand painted picture of Lama Chopa, the 21 Taras and this holy picture of the Dalai Lama in His various aspects: wistful, interesting, adamant and others !!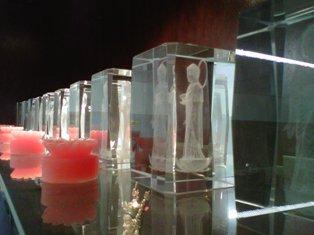 The 20 Buddhas with extra-ordinary aspirations as recounted in the holy sutra of the Great Bodhisattva Kshitigarbha in Phuntsok Cho Ling ( CAS ). They appeared in tactile crystal blocks on the topmost row of our holy shrine.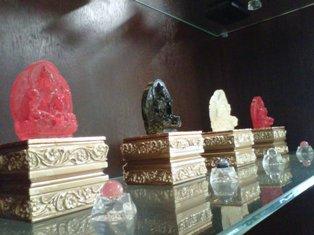 All 21 Taras enthroned in Phuntsok Cho Ling ( CAS ) as depicted in the ancient Indian tradition of Acharya Suryagupta.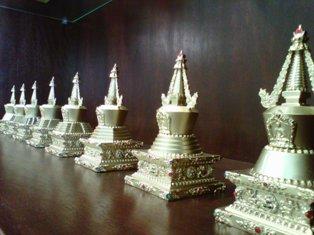 The 8 Great Stupas in the right bottom row of the holy shrine in Phuntsok Cho Ling ( CAS ) representing the major events in the life of Lord Buddha Shakyamuni.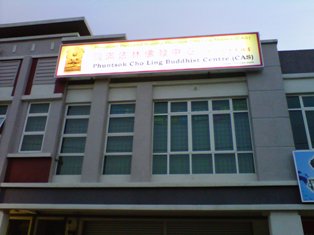 Last December, we finally managed to heave up the centre's signboard.
Blessed is the holy name bestowed by one of the Nyingma Gurus of the Dalai Lama, the late Head of the Nyingma School, Kyabje Trulshig Rinpoche. Now, the name lights up from 7 pm to 11 pm every night, rain or shine, save for electric short circuit !!
May all who hear of the centre, connected to the centre ( or not ), whether directly ( or not ), be eternally and immediately freed of all sufferings and may the precious BODHICITTA bloom forever in their hearts !!
To our great happiness and delight, the same evening, the clouds took on such a beautiful formation we wished we could see it everyday. To our disappointment, these clouds did not return.
Maybe the gods remembered Lord Buddha and rejoiced that one more Dharma centre has been erected and that good shall come so long as the centre remains to serve the Dharma. ( We hope so !! )
Phuntsok Cho Ling ( CAS )'s holy Teacher, Gyudmey Khensur Lobsang Delek, the Great Abbot Emeritus of the Tantric College of Lower Lhasa, by order of the Dalai Lama, was enthroned as the Great Abbot of Segyu Monastery. Barely 6 months into His new position, Rinpoche, by order of the Dalai Lama, was appointed as the Great Abbot of Sera Je Monastery, one of the 3 Great Seats of Learning of Tibet.
Now, Gen Lobsang Delek is honoured with not 1 but 3 holy titles of the "Gyudmey Khensur Rinpoche", "Segyu Khensur Rinpoche" and "Sera Je Khen Rinpoche" !!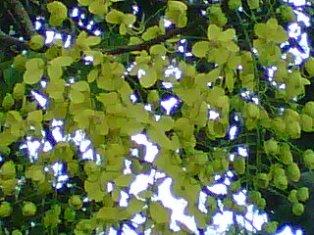 With wild flourishes of exciting butterfly-yellow flowers, we offer our crowns to Rinpoche's holy feet whose presence, blessings and realisations are an unshakeable pillar, upholding the purest Vinayas of the noble Sangha and transmitting the purest sutra and tantra teachings of the Buddha to the world.
Then, we connected with Venerable Master Li Zhong, one of the seniormost Teachers in Malacca and who slept for few hours every night, keeping to his rigorous practices of unceasing prostrations and auterity practices that stretched from 3 am to 11 pm every single day for the past 4 decades.
His supreme humility, deep compassion and purest innocence and honesty reminded us so clearly of our late Teacher, the 100th Trisur Rinpoche.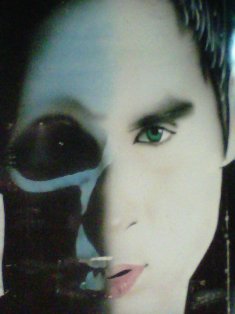 Where pure Dharma reigns, dark corners grope.
Phuntsok Cho Ling ( CAS )'s resident Teacher's Professional Long Term Visa was thwarted by border-guarding people who threw us across Putra Jaya, an artificial town constructed to house legions of the impregnable Malaysian Civil Service, nearly 99% of homogenous race and belief. It shocked us to no end to see counters emptied way before lunch time, incoherent and contradictory advice dispensed and months of emails and calls not answered, pleading not-received, lost, "tak boleh" and the like. Oh, appointments, more often than not, very late or simply forgotten !!
What a bubbled, insular and strange world !!
Many times, we tripped as we grappled to accustom to monstrous, alien culture.
Months after months, the ENTIRE 84,000 texts of the Dharma canon was chanted and completed, 64 sets of offerings to Kalarupa ( the Buffalo-Headed ferocious Lord of Death and THE chief uncommon protector of Lama Je Tsongkhapa ) was completed repeatedly and series upon series of pujas were done by monasteries and holy assemblies to get our resident Teacher into Phuntsok Cho Ling ( CAS ).
Then, we remembered our holy teacher, the late Geshe Lama Konchog, who joked about the many pujas done for his final stage cancer, saying through a translator, that, "If pujas are really all that is needed, the Buddha Himself would have done pujas for all of us and all of samsara would now be empty !!"
All the grace, mysterious and divine innate in nature such as that we sometimes suspected we saw in the skies above Phuntsok Cho Ling ( CAS ) could not relieve the dreary disappointment and impotence against our own and others' karma, merit and auspicious confluences.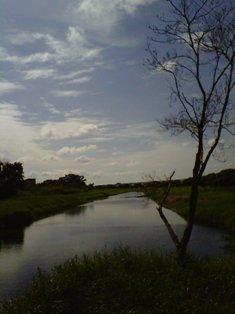 When we attempt to tame our minds through the Mind Training "Lo Jong" teachings, we reflected how we had arranged so carefully for a "teaching" teacher, not a "puja", "prediction" mystic.
This is what the Dalai Lama always advises and told us when we met His Holiness in Dharamsala, "Study first, study and learn diligently, well and properly, then apply what is studied into your life. These two, always remember !!"
The pristine reservoir to the left of Phuntsok Cho Ling ( CAS ) calms the disturbed, angry and unpolished mind.
External cheekiness and, in fact, all phenomena are but manifestation of our grasping-conceptual mind.
Even before we have realised this, have we not been taught by our holy Teachers: "May we see ourselves as the lowest amongst all, and offer the victory to them !!"
This is wisdom, this is Dharma.
Quietly, for so many nights already, we ran back to and from Malacca via the darkened highways. Most of the time, we rejoice in having done all we could, remembering the fishes, the retreats but forgetting the resident teacher.
When we remembered, we became forlorn and sad like the runways, cold and seemingly endless, leading to where ??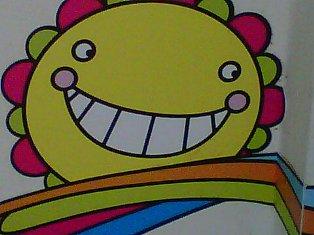 The next morning, the holy Dharma, like the sun, rises. It has been there, all along. It was only the earthlings themselves who have turned away, to the other side of the globe.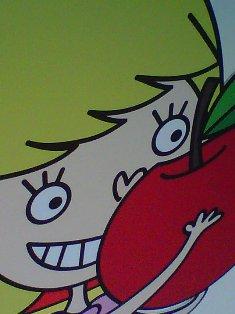 The fortunate disciple who recognises this found a clear and sure way to liberation, like the big, juicy apple meets the gleeful child.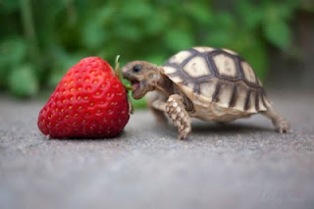 This way is the invincible power of BODHICITTA.
It is the sun which empowers the world always. It is the source and mother of all the Buddhas who have come, are here and will be coming.
This BODHICITTA is also like a strawberry which feeds the stupid, slow, reptilean, scaly or hungry.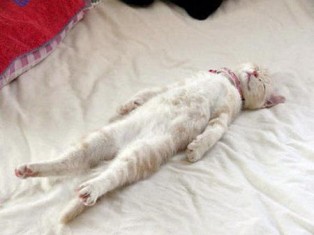 This supreme BODHICITTA exhorts the ( temporarily ) defeated to rise again and again and again and again and again and again until the end of time when not one being is still lost and in the grip of its own-created illusions.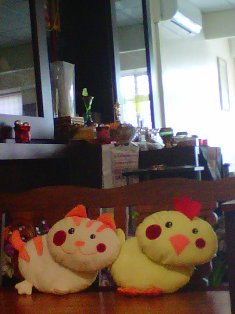 Hence, the 2 ( temporary ) residents at Phuntsok Cho Ling ( CAS ) prays daily, quoting the great Shantideva:
"May I be a protector without one;
A guide for all travellers on the way;
May I be a bridge, a boat and a ship,
for all who wish to cross the waters".
Through anything that we have done, may it serve only as a cause for us to become a Highest, Completely and Perfectly Enlightened Buddha FASTEST for the highest and greatest good of all.
"Amituofo !!"
_________________________________________________________________________________________________________________________________
tELL A fRIEND
"KNOW DHARMA; SHARE DHARMA !!"
Be part of our thousand++ "Friends @ CAS" ( that belongs to Chenrezig & other holy beings )
xxxxxxxxxxxxxxxxxxxxxxxxxxxxxxxxxxxxxxxxxxxxxxxxxxxxxxxxxxxxxxxxxxxxxxxxxxxxxxxxxxx
"I wanna number my days in samsara. sUBSCRIBE mE NOW !!"
Email contact@casotac.com
_______________________________________________________________________________________________________
See www.casotac.com ( available 24 hrs a day / 7 days a week )
CASonline - Your Buddhist online news and teachings.
( All online articles lovingly archived at http://www.casotac.com/casonline.htm )