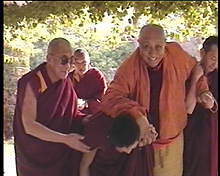 Holy Chenrezig with Lord Manjushri
_____________________________________________________________________________________________________________________
1 -
Excellence
While Rinpoche was in Lhasa, everyone from Kham offered a huge gold-plated lion throne to the Dalai Lama, and Dilgo Khyentse and Shechen Kongtrul presided over the offering ceremony.. ( Shechen Kongtrul, one of Dilgo Khyentse's Root Teahcer ) was very happy and said, "Today I have met Avalokiteshvara."
While in Clement Town, Dilgo Khyentse received two letters from the Dalai Lama in Dharamsala asking for empowerments and teachings. So Rinpoche wenthere and offered a few empowerments in the Dalai Lama's private quarters. When he returned, Rinpoche said that to offer one hour of teachings to His Holiness the Dalai Lama was more profitable for the Buddhadharma than to offer months of empowerments to a thousand monks and tulkus.
Orgyen Tobgyal Rinpoche in "Brilliant Moon" - Autobiography of His Holiness Dilgo Khyentse Rinpoche
_____________________________________________________________________________________________________________________
What's in store ??
1 -
Excellence:
The Dalai Lama with Dilgo Khyentse
1.5 -
Teachers' blessings
Our Drikung Teachers write
2 -
Dearest Friends' @ CAS:
Dharma succeed with your selfless dedications
3 -
Quote/s from the Buddha's holy scripture:
The sacred life of Lord Buddha Shakyamuni
4 -
The Sure-Steps to Enlightenment:
Application Bodhicitta ( The Second Perfection - Ethics )
5 -
Support Dharma Propagation Fund ( DPF ) - Product Highlght :
The all-popular Tibetan massage oil
6 -
You got to know this !!
A) Dudjom Rinpoche teaches on Garab Dorje's monumental Dzogchen text
B) His Eminence Chogye Trichen teaches on the practice of Holy Mother Tara
7 -
For Friends of CAS:
A) shenshian's "Ring of Protection" for the Dharma and mother-animal-beings ( amongst others )
B) Yangtul Rinpoche's appeal
C) Camden is looking for Teachers !!
___________________________________________________________________________________________________________________
1.5 -
Teachers' Blessings
Dear bb & all students in CAS,
...... Ontrul Rinpoche is doing pujas ......
You all are in our prayers and thoughts.

Best Wishes and Love...
Drikung Ontrul & family
________________________________________________________________________________________________________
Dear BB,
I hope this mail finds you are well and doing fine with your beneficial Dharma activities. I am well and doing fine as usual. It has been long time ago I didn't hear anything from you through mail.
Here I would like to share some news with you.

Our winter teaching programs by His Holiness Drikung Kyabgon went over successfully including world peace payers by the monks and nuns who came from different schools.

During the winter teaching program one day we held special program of handing the certificate by HH to the graduated students from Kagyu College. There were around 25 students who received the certificates. Right now most of them are working at Drikung Kagyu Institute and its branches namely, Kagyu Colllege,Songtsen library and Samtenling nunnery.

Generally, we have a 9 year program of which the core studies include Buddhist philosophy as well as Tibetan grammar, poetry, English and Chinese.

Upon completion of the first four years, students receive a certificate for Madyamaika after which they participate in studies for the next 3 years, of which the focus is on the 5 Treasures of the Maitreya texts and the very profound teachings of Lord Jigten Sumgom, Tinying Gong Chik for which students receive a Shastra Diploma, which is the same as receiving a BA Degree.

After completion of 2 years study of vinaya and tantra, the student then receives the Acharya degree, which is equal to the Master's Degree.

We are proud and deeply grateful to provide these great teachings which I sincerely hope benefits each individual who graduates this day, as well as all beings without exception.

I sincerely thank you each of you, esteemed faculty, for your dedication and constant, hard work, which has given all of us the benefit of your wisdom and knowledge. We are here through the kindness and generosity support of all of our sponsors who make this happen.

My mother came here recently to stay here for the winter as you know the weather in Ladakh incredibly cold during the winter. Therefore, I invited her to stay here and I am quite happy about it and I quite happy to do that thought this way I manage to repay her kindness as we know how our mum is so kind for us.

Since last month,I started teachings Bardo (Thodol) two times in a month to the elder people at Tibetan colony.

Here I also would like to express highly gratitude to support to our Tsekarmo Restoration project in Ladakh. As you know because of harsh weather during the winter in Ladakh the project had to stop for a few months, it is one of the reasons why the project has been going slow.
The working committee of the project has been working very hard and now they are collecting the materials for the next season. If the fund raise and everything goes well our target to complete the Stupa projeact and the accommodation for the senior monks in the year of 2010. In advance, On behalf of our committee I would like invite you to be participating for the inauguration. I will inform you exact date and programs in advance.

Look forward to hear from you with some news.

With lots of greetings and prayers
Khenpo Rangdol
Khenpo Konchok Rangdol
(Principal Kagyu College)

Kagyu College
P.O. Kulhan
Sahastradhara Road,
Dehra Dun-248001
(U.K.) India
______________________________________________________________________________________________________
2 -
Dearest Friends @ CAS,
In accordance with your wishes and dedications, CASonline is back, carrying much blessings of the Gurus, Buddhas and Bodhisattvas.
We will need all your selfless prayers that Drikung Ontrul Rinpoche & Loseling Khensur could come for the Longchen Nyingthig and Je Tzongkhapa's sacred works, ( very ) soon, for all beings to taste liberation - even in this final epoch of the Buddha's Teachings.
"Namo Da Yuan Da Zang Wang Pu Sa !!"
Homage and eternal refuge in the Great Bodhisattva Kshitigarbha: http://www.casotac.com/download.html ( sutra ) / http://www.casotac.com/dizang.html ( image )
bb & other cats' paws @ CAS
____________________________________________________________________________________________________________________
3 -
Quote/s from the Buddha's holy scripture
The sacred life-story of Shakyamuni Buddha in Chinese & in enchanting Pali chanting
http://www.youtube.com/watch?v=SF4fXkck-_g&NR=1 ( Pali with carved images )
http://www.youtube.com/watch?v=DzyIuVaApic&feature=related
______________________________________________________________________________________________________
4 -
"The Sure-Steps to Enlightenment."
( Meditation on the Lam Rim - rough, authentic notes. )
TOPIC EIGHT
APPLICATION BODHICITTA ( Part Two )
( Perfection of Commitment-Ethics )
ONE
"Do No Harm"
To attain Buddhahood is the best way to benefit all mother beings. So I observe the commitment of completely avoiding causing harm to any beings to accumulate Merit for attainment of Buddhahood.
[ No killing / gossiping etc ]
( While contemplating the above, do 108 times mantra of your Yidam - Chenrezig, Tara, Yamantaka or others. Or you can do the mantras until you feel the topic has firmly been internalised in your mind !! )
TWO
"Benefit"
To attain Buddhahood is the best way to benefit all mother beings. So I observe the commitment of benefitting any beings wherever possible to accumulate Merit for attainment of Buddhahood.
[ Helping / comforting etc ]
( While contemplating the above, do 108 times mantra of your Yidam - Chenrezig, Tara, Yamantaka or others. Or you can do the mantras until you feel the topic has firmly been internalised in your mind !! )
THREE
"Merit-Dharma"
To attain Buddhahood is the best way to benefit all mother beings. So I observe the commitment of accumulating Merit and exerting in Dharma practices wherever possible to accumulate Merit for attainment of Buddhahood.
[ Reading texts / prostrations etc ]
( While contemplating the above, do 108 times mantra of your Yidam - Chenrezig, Tara, Yamantaka or others. Or you can do the mantras until you feel the topic has firmly been internalised in your mind !! )
[ Here ends the main points dealing with the Eighth Topic ( Part Two ) of all Lam Rim traditions. Carry them out wherever possible. ]
_______________________________________________________________________________________________________
5 -
"Support Dharma Propagation Fund ( D
PF ) - Product Highlight".
From The
Tibetan
Medical
College
:
Tibetan Massage Oil - Juk Nuum Agar Dhethear
Sorig Herbal Massage Oil (Juk-Nuum-Agar-Dhethear) is prepared on the basis of herbal ingredients for pacifying loong disorders. As stated in the Tibetan Medical Text, its regular application will assist in relieving physical and mental strain, thus keeping the mind and body fresh and light. It also enhances memory, blood circulation, reduces excess body fat, relaxes muscles, ligaments and nerves, and regenerates body cells. (Net. Vol. 75ml)
We could try to post them to you ( will include postage costs to reimburse Dharma Propagation Fund - DPF ) or you could come down to
Camden
Education
Center
to collect.
Do confirm first so we can transfer them from Ganden Trisur's place in Singapore to the education centre before you come.
We only have about 15 each to go.
Suggested offering:
( Friends @ CASonline - S$14/- excluding postage )
( Not a Friend @ CASonline - S$18/- excluding postage )
All contributions will go into CAS's life-saving DPF !!
______________________________________________________________
6 -
You Got To Know This !!
A)
The late Dudjom Rinpoche teaches on Garab Dorje's "Three Words that Strike the Vital Point: http://dudjom.blogspot.com/2008/03/on-three-statements-of-garab-dorje.html
( Thanks to wikiki - Shaggy )
B)
A teaching on the practice of Holy Mother Tara by His Eminence Chogye Trichen*
( *Chogye Rinpoche is a principal Sakya Teacher of the Dalai Lama )
Special Benefits Bestowed by Tara And the Mother Goddesses

The practice of Tara is said to have many different extraordinary powers of blessing, and is particularly effective in a wide variety of situations. For example, it is said that at the end of an aeon or cycle of time, when hardships and calamities may increase, the mantra and puja rituals of Tara are very essential. Anyone can recite the prayers of Tara and it brings great benefit.

As we recounted earlier, in a prior era at the beginning of our aeon, the Buddha Mahavairochana was the Guru, the spiritual guide, of Tara. Buddha Vairochana blessed Tara and prophesied to her that at the end of the aeon, in those lands and worlds where pujas, prayers, and rituals of Tara are recited, as a result of these prayers, the many diseases, troubles, and disturbances caused by evil spirits and by human beings would be pacified and resolved. I feel that the practice of Tara is the most important and essential of all practices in such times.

Other goddesses also very helpful in this regard is Marichi, or Ozer Jemma, and the well-known goddess of spiritual healing, Parna Shawari. Their prayers and mantras bring the same power and benefits as those of Tara. They are basically the same goddess, Prajnaparamita, in different manifestations.

Of Tara, is said that not only diseases and disturbances caused by evil spirits, but also fighting, wars, conflicts and arguments may also be pacified and resolved by the power of her practice. All such obstacles and related difficulties can be removed through the blessing of the prayers and mantras of these goddesses.

Ozer Jemma and Parna Shawari as well as Yudon Drolma, are particularly effective forms of the goddess to practice in order to protect against and heal all kinds of diseases. They are especially important to protect against thieves and criminals, and to heal the suffering caused by strife and conflict.

It is said that these puja prayer rituals and mantra recitations are particularly important when we come to the end of an age or cycle of time. For such times, the practice of Guru Rinpoche is widely recommended, but Tara, Ozer Jemma, and Parna Shawari are also extremely important.

In times of the threat of wars, epidemics, strife, and so on, it is very important that the mantras of these three goddesses be put on prayer flags and hung in the air, as much as people are able to do this. People from all walks of life should do this and say these mantras as much as possible. Along with the prayers of Guru Rinpoche, these practices are the most effective in such times and situations as we are speaking of. This has been stated in many scriptures.

One who offers praise to Tara is truly intelligent. Whether early in the morning or late at night, if one offers the praise to the twenty-one Taras, such as offering two, three, and then seven repetitions of the prayer, totaling twelve recitations of the praise to the twenty-one Taras, all wishes can be fulfilled. This is how it is in the Four Mandalas' Ritual of Holy Tara "The Illuminating Lamp". In this puja one repeats the praise twice, then three times, then seven times.

When it is said that all one's wishes will be fulfilled, it means that if you need a child, you'll get one. If you have financial needs, these will be met. Whatever wishes you have, all of them can be fulfilled through praise to Tara. Actually, one doesn't need more than this practice; it accomplishes everything!

You only need to try it out, to test it, in order to allay your obstacles. All of your obstacles and difficulties, however many there are, can all be removed and relieved through offering praise to Tara. Through praying to Tara, all potential obstacles are powerless to cause you harm; they are naturally pacified. Nothing can get to you or harm you in any way; you become impenetrable, unassailable.

There is no doubt that Tara is very swift in allaying obstacles. It is an especially close and rapid method for female practitioners. Tara and the female Buddha Vajrayogini are of the same essence; Vajrayogini is also a rapid method of gaining accomplishment. All the activities of the Buddhas are embodied in Tara, contained in her, complete in her.

You have now been empowered to meditate on yourself in the form of Green Tara. Your speech can be transformed into mantra, your thoughts into wisdom. You are no longer an ordinary being; your body, speech, and mind have been completely elevated into the exalted state of Tara herself, into the form, mantra, and wisdom of Tara.

The words of the praise to the twenty-one Taras are not the intellectual composition of scholars. They are spoken directly by Buddha Mahavairochana and Buddha Shakyamuni themselves. Please recite the praise to Tara as much as you are able to in the course of your everyday life. If you are unable at any time to recite the praise, try to recite the mantra of Tara, OM TARE TUTTARE TURE SVAHA.

At the minimum, at least you can recite "Tara, Tara, Tara ?K", or you can say "Tare, Tare, Tare?K", just repeating her name. When you call out someone's name, don't they give you their attention? By calling on Tara by name, she will certainly hear you and respond. Don't just do it because I say so, but by all means, do it!
( From Lama Migmar's website: http://www.lamamigmar.com/html/practice-green-tara.html )
p/s:
See also http://www.casotac.com/tara.html ( the commentary of Tara's Praises at the bottom of the page ) &
http://baharna.com/tara/practice.htm
___________________________________________________________________________________________________________________
7 -
For Friends of CAS
A) Do take a look at shenshian@yahoogroups.com ( drop short line to request to be in group ) for very hands-on and updated news on work with protecting our mother animals / the holy Dharma and all.
AN ABSOLUTE MUST WILL BE THROUGH EDUCATING ALL ON PROTECTING LIVES / REDUCING DEMAND FOR MEAT THROUGH VEGETARIANSM / DHARMA .... HENCE MASSIVE KILLING OF ANIMAL FOR COMMERCIAL PROFITS.
( NEVER BEFORE IN THE WORLD'S HISTORY HAS ANIMALS BEEN BRED AND SLAUGHTERED ON SUCH AN UNBELIEVABLE SCALE AS NOW !! )
See also: http://www.casotac.com/vege/vege.html
B) Yangtul Rinpoche from Sera Je Monastery is back in Tibet working very hard for education and well-being of a very poor region. Do support him whaever way you can !!
Dear CAS,
Thank you so much for saying that you will try your best help us and will announce about our projects to your friends. Here i am sending you the biography of mine and the projects which i am doing for the poor peoples and remote place of Kharnang Monastery in Qinhai.As i have said in the phone that we do private blessings, house blessings, give empowerments etc so If you can help us to arrange any of these programs then please call me on this number:94860675 because i cannot check my mail very often.That is all for tonight and keep in touch.
With best wishes,
Kharnang Yangtul Rinpoche

May Peace Prevail on Earth
C)
Email bb at
contact@camden.edu.sg
if you will like to be part of Camden's very, very exciting and fun teachers !!
We need teachers from every subject, every level !!
____________________________________________________________________________________
tELL A fRIEND
"KNOW DHARMA; SHARE DHARMA !!"
Be part of our thousand++ "Friends @ CAS" ( that belongs to Chenrezig & other holy beings )
xxxxxxxxxxxxxxxxxxxxxxxxxxxxxxxxxxxxxxxxxxxxxxxxxxxxxxxxxxxxxxxxxxxxxxxxxxxxxxxxxxx
"I wanna number my days in samsara. sUBSCRIBE mE NOW !!"
Email contact@casotac.com
_______________________________________________________________________________________________________
See www.casotac.com ( available 24 hrs a day / 7 days a week )
CASonline - Your Buddhist online news and teachings.
( All online articles lovingly archived at http://www.casotac.com/casonline.htm )