STAFF WRITER
Sunday, Jun 05, 2005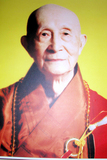 Dharma Master Yin Shun who died on Friday at age 100.
PHOTO: TSAI CHANG-SHENG, TAIPEI TIMES

Dharma Master Yin Shun (?????), who is credited leading a renaissance in Chinese Buddhism, passed away in Hualian's Tzu-Chi Hospital on Friday, aged 100.
Yin Shun was a mentor to Master Cheng Yen (??????) the founder of the Buddhist Compassion Relief Tzu-Chi Foundation, and was honored by Tzu-Chi members as their "Shih Kung" (Teacher Patriarch).
He was a pioneer in developing the concept of "humanist Buddhism," the need for the monastic community to engage with the mundane world.
At a press conference yesterday, Master Shih Chao-hui (??/CHINESE>) an associate professor in religion at Hsuan Chuang University emphasized the importance of Yin Shun's ideas in the revitalization of Buddhism in this country.

Chao Hui said Yin Shun was a harsh critic of the superstition and idolatry into which Mahayana Buddhism had sunk, and abhorred the conflicts between various sects within the faith.

Although Yin Shun is closely associated with the Tzu-Chi Foundation, he has had a decisive influence on others of the new generation of Buddhist masters such as Master Sheng Yen (??????) of Dharma Drum Mountain and Master Hsin Yun (?????) of Fu Guang Shan, who are active in humanitarian aid, social work, environmentalism and academic research.

Yin Shun was born in 1906 in Haining County, Zhejiang Province. He became a monk in 1930 and pursed his religious studies at the Nantuo Temple in Xiamen, developing into a formidable scholar.

His is credited with raising the status of Mahayana Buddhism through his extensive writings and his insistence on theoretical rigor. In 1972, with the publication of his History of the Chinese Ch'an School (????/CHINESE>), he received a doctorate from Japan's Taisho University. He was the first monk from Taiwan to receive such a high academic qualification.

Yin Shun traveled widely in Asia and lectured at many academic and religious organizations.

In March last year, he was awarded the Order of Propitious Clouds Second Class, for his contributions to the revitalization of Buddhism in Taiwan.

____________________________________________________________________________________________

SPECIAL REPORT FROM LANKA DAILY NEWS
Buddhism in ancient Israel and Arabia (part 1)
Buddhism in ancient Israel and Arabia (part 2)
Buddhism in ancient Israel and Arabia (part 3 coming soon)

_________________________________________________________________________________________________________________

Australia's Highest Honour awarded to Master Chin Kung
By Graeme Lyall

Venerable Master Chin Kung AM was awarded the Order of Australia (AM) in the Queen°Įs Birthday Honours List, published on Monday, 13th of June, 2005. This is the highest honour that Australia can confer on any of its citizens. He was previously appointed as Adjunct Professor by both the University of Queensland and Griffith University in Brisbane. He is the Director of the Pure Land Learning College in Toowoomba, Queensland, a training institution for the Sangha.

Hsu Yae-hong, better known by his Buddhist name Shr Chin Kung, was born in Luchiang County, Anhui Province of China, on February 15, 1927. He grew up in Cheino, Fukien and studied at The National Third Kuichou High School during World War II, and then at Nanking First Municipal High School after the War ended. In 1949, he went to Taiwan and served in the Shihchien Institution. For thirteen years thereafter, he spent his leisure hours studying Buddhism and Philosophy under the guidance of Professor Fang Tung-mei, Master Chang Jia, and Teacher Lee Ping-nan. Here the Teacher established a strong foundation for his future career.

In 1959, the left he home life at Lintzi Temple of Yuanshan, Taipei. He was given the name Chin Kung and received the full ordination to become a monk. Afterwards, he began to lecture extensively on the Buddha's teachings in Taiwan and abroad. For thirty-six years, he gave various discourses on the Flower Adornment Sutra, Dharma Flower Sutra, Shurangama Sutra, Complete Enlightenment Sutra, Sutra of the Sixth Patriarch, The Diamond Sutra, The Five Sutras of Pure Land, and many more. The Teacher was also the founder of Hwa Dzan Society of Propagating Teachings, Hwa Dzan Monastery, Hwa Dzan Buddhist Library, Hwa Dzan Lecture Hall, and The Corporate Body of the Buddha Educational Foundation. As a means to widely propagate the Buddha's teachings in this time and age, the Teacher began to put technology and Buddhism together. For the first time in history, the Buddha's teachings came out on audio and video tapes, bringing benefit to countless people. The Teacher also sponsored the printing and distribution of over three million Buddhist texts world-wide, including The Great Collection of Sutras. Over a million portraits and pictures of various Buddhas and Bodhisattvas have also
been printed for free distribution.

During his teaching career, he has served as the clerk of Lintzi Temple at Yuanshan, instructor of Tripitaka Institute at Shihpu Temple, instructor of the Buddhist Institute of Nan Pu-tuo, member of the Propagating Teachings Committee and Planning Committee in the Chinese Buddhist Association, professor and dean of academic affairs at the Orient Buddhist College at Fo-kuang Mountain, speaker of the Buddhist Seminar for University Students at Sungshan Temple, President of the Chinese Inner Learning College, professor at the Chinese Culture University, main instructor of the Buddhist Seminar for University Students at the Chinese Buddhist Association, professor of the Spiritual Living Course for East Asian Catholics at Fu Ren University, chairman of Hwa Dzan Society of Propagating Teachings, abbot of Hwa Dzan Monastery, teacher and advisor of Hwa Dzan Buddhist Library, Chairman of the Board at Hwa Dzan Pure Land Learning Center, chairman of Washington D.C. Buddhist Association, chairman of Dallas Buddhist Association, and teacher and advisor of the Amitabha Buddhist Society (Singapore), Amitabha Buddhist Association of Queensland, Amitabha Buddhist Association of New South Wales, Amitabha Buddhist Association of Victoria and Amitabha Buddhist Association of Western Australia. The Teacher has also founded fifteen Pure Land Learning Centers all over the world to promote the cultivation of pure conduct and Pure Land practice.

As of now, the elderly and respected Teacher Chin Kung has resigned from all positions in the various Buddhist organizations, and concentrates solely on the spreading and teaching of the Buddha's education, through the Pure Land Learning College and through satellite television on Hwa Tzang TV. In his practice of modest Buddha recitation, the Teacher now seeks rebirth in the Western Pure Land of Ultimate Bliss.

___________________________________________________________________________________________
From Davin:
Many colleges and universities have added Buddhist monks to their roster of chaplains as the religion has grown in the United
States. MIT didn?°•t have one until Tenzin arrived in 2002, while he was completing his graduate work at Harvard Divinity School.
Robert Randolph, senior associate dean for student life at MIT and a Protestant minister, recruited Tenzin after hearing about him
from colleagues at Harvard University.
?°"It has paid off wonderfully,?Randolph said. ?°"We wanted to have a religious presence on campus to serve our Buddhist students, but he also has broadened the experience of students who wouldn?°•t know how to spell ??Buddhism.?°ņ?°•
One percent of college students identify as Buddhist, according to a recent study of college students?spiritual and religious practices, conducted by the Higher Education Research Institute and funded by the Templeton Foundation. The same study found that Buddhist students had high levels of charitable involvement and religious skepticism and they espoused ecumenical world views.
Tenzin not only teaches and counsels students, he also lives in a campus residence hall, in a studio equipped with a meditation room and a laptop with a high-speed Internet connection.
Tenzin said his students know he isn?°•t there to convert them.
?°"It?°•s a very nonthreatening tradition, and it doesn?°•t require any conversion,?he said. ?°"Religious conversion is something that has to be done at a deeper level and takes years of time.?/P>
John Essigmann, a professor of chemistry and engineering at MIT, said he saw Tenzin in the dining hall discussing gravitational lensing with a renowned physics professor. The next night, he and a neurophysician were debating theories about meditation?°•s effects on the brain.
?°"All in a seamless conversation, as natural as could be,? Essigmann said.
B. Alan Wallace, a Buddhist scholar who spoke at that conference, said science and Buddhism is a ?°"match waiting to be made,?although there are skeptics on both sides.
Tenzin said Buddhists have been studying and cultivating the mind for 2,500 years, but he wants to explore ways that science can answer questions that religion cannot.
?°"Buddhism goes very well with MIT,?he said. ?°"We both want people to have good reasons for their beliefs.?nbsp;

___________________________________________________________________________________________
From Kok Weun:
Hi Bb,
I am very sorry to bother you . I have read many mails from the CAS and I noticed that you are really a full swing charity org. And I also had volunteered once before.
I have a question to ask but I am not sure its correct to ask .
I have a unit with 3 rooms , Sunflower Residence Geylang Lor 32 not near the red light district.
Lots of ammenties and 5 mins walk behind the Old Airport Hawkers Centre with >200 stores.
I am not sure if you have any buddhist friends or some monks that need lodging.
I was thinking of renting it out.The house will be available from this August 2005
It's fully furnished and move in condition.
I am sorry to have asked you for this favour.
Please let me know if you think my mail is not suitable for your CAS noticed.
Cos I was thinking that many Buddhist activities are going on over that area, so it might be a convenient place to live in .
THank you for posting my mail
As I will be flying most of my time pls leave me a sms @ 96641321
Have a pleasant day
Kok Weun
Dear Friend,
CAS will grab and anything that promotes the Teachings and benefits mother beings .!!
"Karmapa Chenno !!"
bb and other Grabbers
__________________________________________________________________________________________
From Doris:
My friend photographer Ray Tan, is holding his very first photography exhibition on the life of Sister Teresa Hsu. At 107, she is Singapore's oldest social worker, dedicating her whole life to helping the underprivileged. Do come and attend this very special and meaningful talk this coming Thursday

,
30 June

, 7.30pm

at Singapore Art Museum Glass Hall

by Sister Teresa.

I would appreciate it if you could disseminate this to your friends. Thank you!

Cynthia / Sze Ing / Kah Lai - can you disseminate to PKS & Youth Group?
Boon Beng / Tara / Iris - can you please help broadcast / disseminate?
The OneZeroSeven exhibition will focus on the life and work of the oldest social worker in Singapore, Teresa Hsu Chih. Born in 1898 in Swatow, China, Teresa Hsu dedicated her whole life to helping the poor and needy. The exhibition was conceived primarily to celebrate Teresa Hsu's 107th birthday in July, and also to allow the public a private glimpse into her life.
Please reply to this email to register for the pre-exhibition talk as it is on a first come basis. The details of the talk and exhibition are as follows:
Pre-Exhibition Talk : Brothers & Sisters
30 June 2005, 7.30pm
Singapore Art Museum Glass Hall
71 Bras Basah Road S(189555)
OneZeroSeven Photography Exhibition
6-18 July 2005, 12-7pm (Excluding Sundays)
The Photographers' Gallery
MICA Building
140 Hill Street #01-02 S(179369)
The OneZeroSeven exhibition will be officially opened by Teresa Hsu Chih on 6 July at 7.00pm
Best Wishes,
Ray Tan
M 9830 8396
_______________________________________________________________________________________