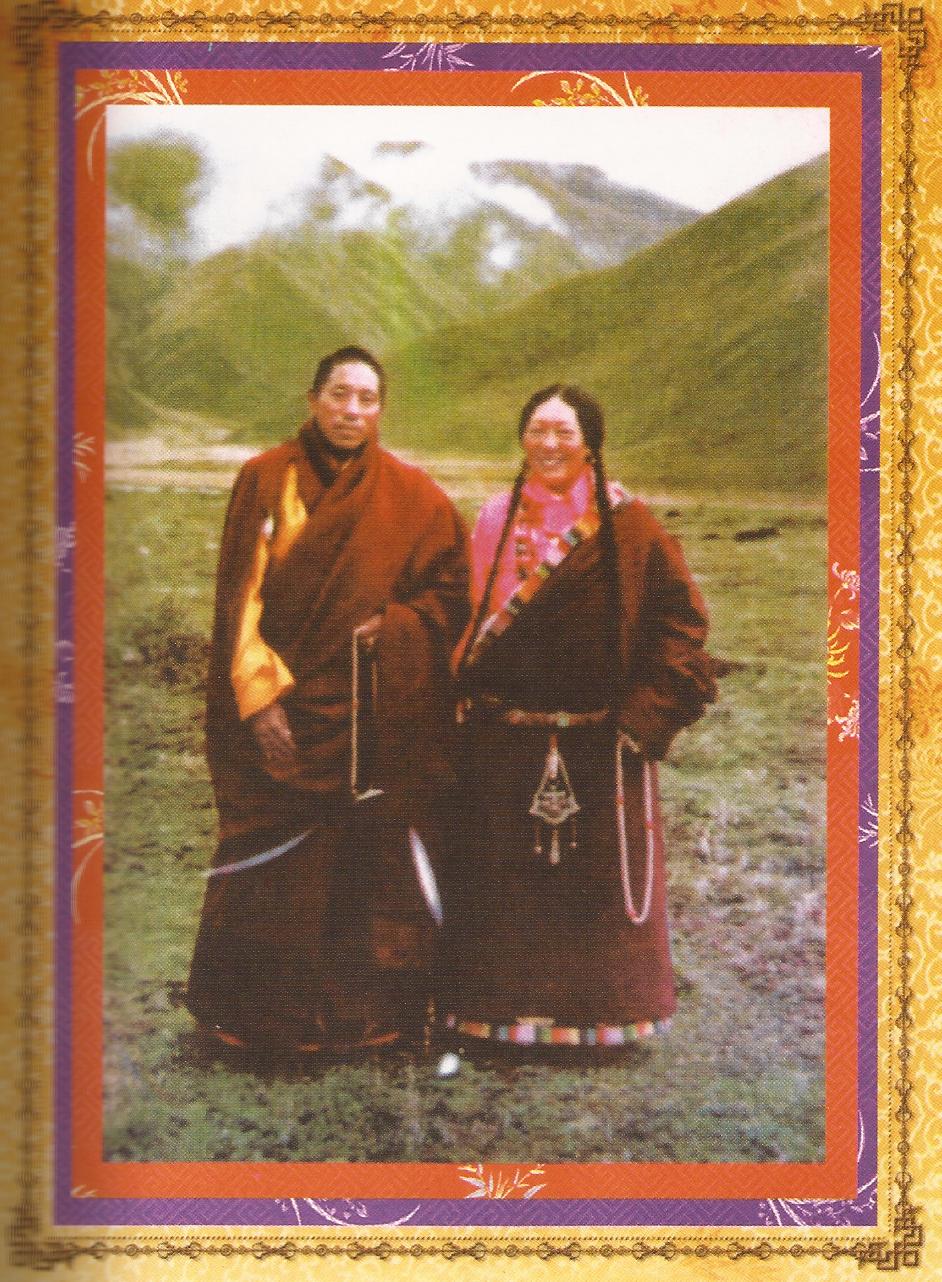 Nyanlung Jigme Phuntsok Rinpoche ( Orgyen Namkha Lingpa ) and Consort Tare Lhamo
______________________________________________________________________________________________________________________
One of the authentic, precious tertons of our age, manifested nirvana on 7 Nov 2011 after showing illness for many years,
Taking on the infinite sufferings of the oceans of mother sentient beings.
Nyanlung Rinpoche is a student of the late Khenpo Jigme Phuntsok of Serta Larong and Kyabje Dodrupchen Rinpoche.
He is enthroned and recognised as a genuine, precious terton of Guru Padmasambhava by both these masters,
Both of whom, in turn, requested empowerments and teachings from Nyanlung Rinpoche, of His newly-revealed termas.
Nyanlung Rinpoche's appendixed name of "Jigme Phuntsok" is, in fact, offered to Him,
By His own Guru, the late Khenpo Jigme Phuntsok, who considered Nyanlung Rinpoche His very own manifestation.
Nyanlung Rinpoche has been requested to bestow empowerments of His termas at numerous monasteries,
Including the thousands of sangha at Serta Larong ( "Wu Ming Fo Xue Yuan" in Chinese ),
Samye Monastery and many Tibetan monasteries, both major and small, in Tibet itself.
To establish faith in the faithless, Nyanlung Rinpoche, throughout the years,
Constantly manifested numerous enlightened aspects of transcending the mundane appearances of samsara.
During the Cultural Revolution, Nyanlung Rinpiche obtained endless supply of food and butter from a mere tin
For hundreds of starving people. On other occasions, Rinpoche practically and literally walked through solid walls
To reach His students to teach them the Dharma.
The Great King Gesar, Ekajati, Rahula and Dorje Legpa, in addition to the many other great protectors of the Dharma,
Offered their hearts to Rinpoche, a true, living Bodhisattva, and enacted enlightened activities,
At the behest of Rinpoche's holy wishes and aspirations.
His greatest miracle is, however, His endless streams of love and compassion which effectively tamed the wild minds of students,
The wild beings of the Degenerate Age. Apparently, old communism and the current virulent strains of Chinese materialism
Offer no hold over Nyanlung Rinpoche whose Chinese students in the many Chinese cities run into the thousands.
CAS managed to establish a blessed connection to Nyanlung Rinpoche through Phuntsok Dorje
And managed a phone line through to Tibet to Rinpoche who held a short Refuge Ceremony for
The few fortunate Beings @ CAS ( via the phone !! ) at CAS's education centre, Camden.
CAS received several precious instructions and prophecies. We have kept them faithfully in our hearts.
We will never forget the holy speech and the sound of Rinpoche's voice.
As Nyanlung Rinpoche instructed: share widely the precious Guru Yoga of Guru Padmasambhava that
Guru Padma Himself concealed, and now revealed for us, to all those with faith, with merit and the blessed connection,
Even if they are not Buddhists or have not the necessary empowerments .... so long as they have faith.
So, we have attached the Root Text of "The Shower of Blessings" and the precious teachings on the
Drink from the heart of Guru Rinpoche.
bb & all students @ CAS, under the guidance of the great terton, Orgyen Namkha Lingpa
____________________________________________________________________________________________________________________
TELL A fRIEND

"KNOW DHARMA; SHARE DHARMA !!"

Be part of our thousand++ "Friends @ CAS" ( that belongs to Chenrezig & other holy beings )

Xxxxxxxxxxxxxxxxxxxxxxxxxxxxxxxxxxxxxxxxxxxxxxxxxxxxxxxxxxxxxxxxxxxxxxxxxxxxxxxx

"I wanna number my days in samsara. SUBSCRIBE mE NOW !!"

Email contact@casotac.com

_____________________________________________________________________________________

See www.casotac.com ( available 24 hrs a day / 7 days a week )

CASonline - Your Buddhist online news and teachings.

( All online articles lovingly archived at http://www.casotac.com/casonline.htm )_____________________________________________________________________________________________________________