We are leaving for Phuntsok Cho Ling ( CAS ) at Malacca, Malaysia for about a month to iron out the administrative and logistical matters.
The 4th season has arrived
So, we are:
1) leaving a programme of one of CAS's very realised ( indeed !! ) holy Teachers, the Katok Khenchen Lhoga Rinpoche ( as attached ) in this issue,
2) a tentatively fnal list ( as of 24 Nov 2011 ) of the sponsors-students list of Most Venerable Drikung Ontrul Rinpoche's projects and
3) a small reflection of bb @ CAS on Snow Lion's exciting new book, "The extremely secret dakini of Naropa".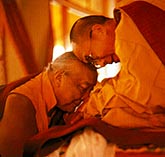 The Dalai Lama and His Nyingma Teacher
Then, we have a newly-discovered video "Lunar Brillante" in
CAS's Video-on-Demand
on life of the formidable Dilgo Khyentse Rinpoche:
www.casotac.com
.
This should keep all our frens @ CAS very busily occupied meanwhile !!
Do remember to be kind to mothers in the animal realms too !!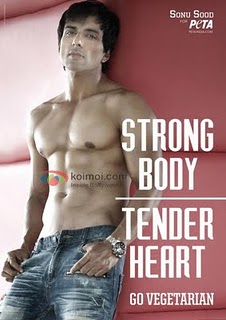 "Amituofo !!"
bb & other travellers @ CAS
_________________________________________________________________________________________________________________________________________
Phuntsok Cho Ling ( CAS ) updates !!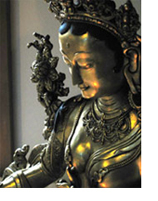 We will definitely be throwing in some Green Tara retreats on top of the daily practices as the big bookshelves are already drilled and constructed ( by ourselves !! ), the carpets transported and laid.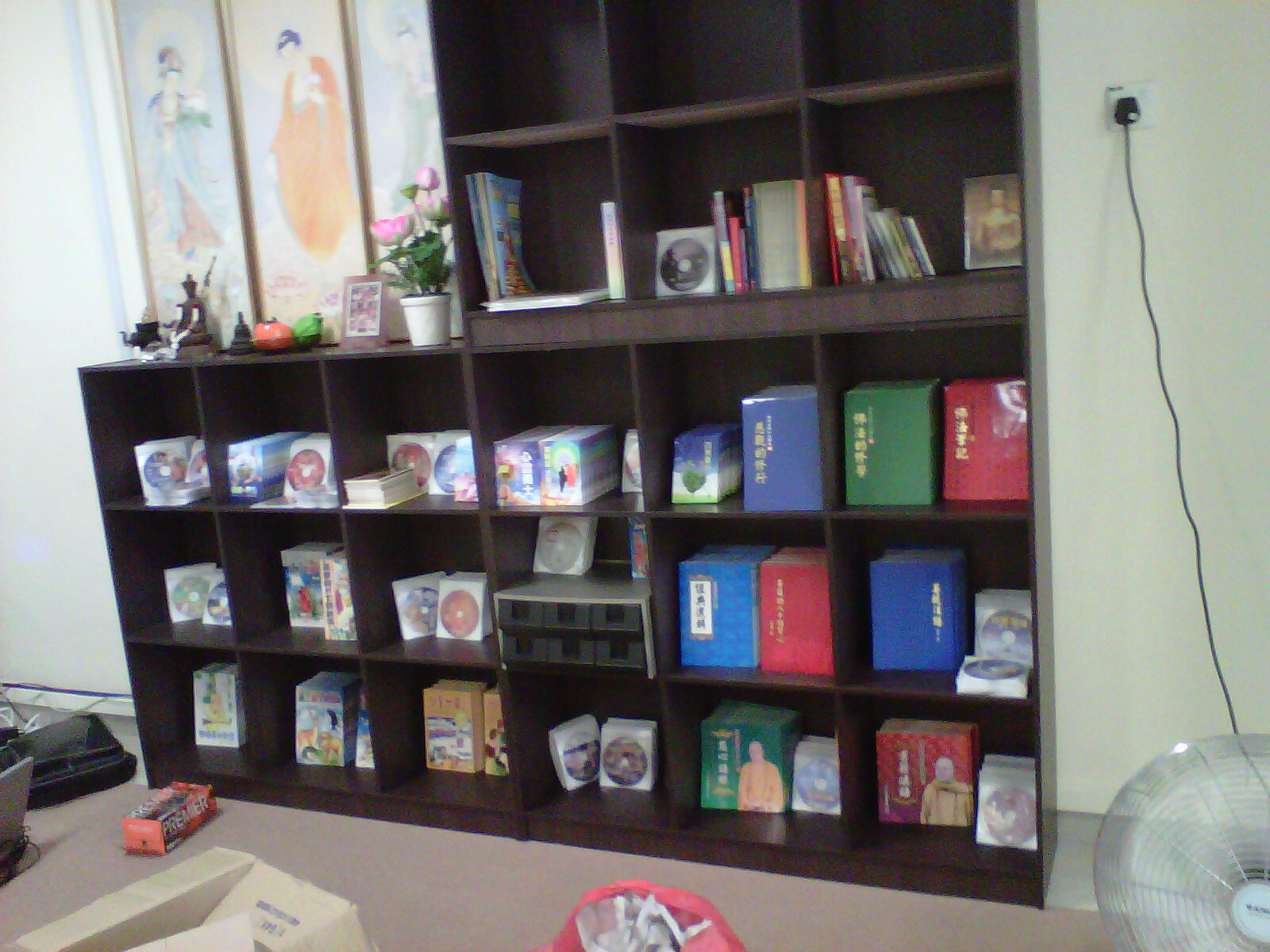 Boxes filling-up 2 full boots of a car with contents now emptied
What are left are the chops from the Malaysian immigration ( this is very tricky ) for our resident Geshe to start long-term study programmes of Je Tsongkhapa's "The Great Stages of the Path to Enlightenment", Shantideva's "Guide to the Bodhisattva's Way of Life" and other such very holy classics. The bookshelves will act as the physical basis for a cozy corner for exciting Dharma things and the supposedly very sophisticated "live" web-cast system is supposed to offer views of the excellent Geshe's teachings to people anywhere, relaying the teachings into i-phones, computers in Singapore, the Amazon jungle, Paris, on buses, Siberia, toilet cubicles or others.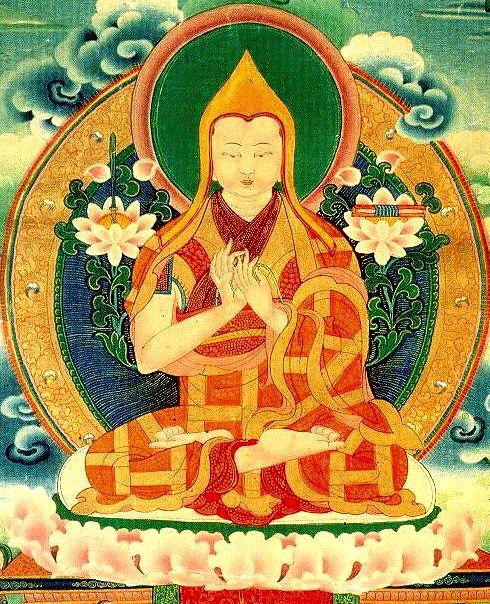 As the scope is wide, karma must be good. So, please, with the purest of all hearts, pray and dedicate for the best benefit to come !!
____________________________________________________________________________________________________________________________________________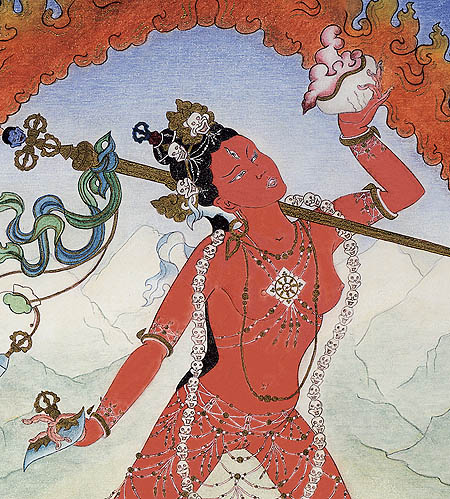 Vajrayogini - Pabongkha's dakini
_____________________________________________________________________________________________________________
"The extremely secret dakini of Naropa" by Kyabje Pabongkha
This precious gem of a commentary on the practice of Vajrayogini by this holy Master contains critical and very detailed instructions on some of the most salient and perhaps previously not-clearly-emphasised-enough points of the practice.
There is, for example, this awfully important note on Self-Generation. Self-Generation is not supposed to be further fabrications on what are already samsaric illusions of our human bodies, homes, etc: imagining our samsaric bodies transforming into snarling, multi-armed deities ... a super ego-boost !!
Self-Generation is ideally an understanding of the transmutation-sublimation into pristine-primordial Buddha-qualities, in the aspects of these fantastic yidams, which are the hidden-obscured underlying nature of the disturbing defilements. With this understanding as the basis, the practitioners arise as Yidams, because of infinite compassion and love for the oceans of helpless suffering mother beings, as this is the best way ( to become a Buddha immediately !! ) to bring all to the same enlightened state.
Grasping upon the self generated Yidams as another tactile, truly-existent being is a sad perversion of the Self Generation practices and involve mixing further confusion upon already samsaric appearances.
Hence, Pabongkha's reviewing below on this point is so pertinent:
"Thus, accomplishing clear appearances is an antidote to ordinary appearances, and accomplishing divine pride is an antidote to ordinary conceptions; therefore you should also train in divine pride.
To sustain divine pride, there (must be) a basis upon which divine pride is established. Previously, once your ordinary body was purified into emptiness, you generate yourself as Jetsun Vajrayogini. Regarding this, some say you are generating a body that is "another," and therefore they feel that this is not suitable to function as (a basis) for developing divine pride, yet there isn't any fault (in doing so). For example, you didn't carry this body that you have right now from a previous life, but it was produced from the sperm and ovum of your father and mother and is therefore "other," but you still mentally apprehend it as "my body."
This is similar to a disciplinarian of a monastery and so forth, who has not been established as such from the outset, yet when the conditions such as a valid basis of imputation and the act of imputing are assembled and the nominal terminology is ascribed to him, he undeniably becomes the disciplinarian and so forth. Here, the main point is that you are transferring your basis of imputation. Right now you have a physical basis composed of flesh and bones. You shouldn't think that this collection of aggregates is Vajrayogini.
Once all ordinary appearances and conceptions as well as the conception of true existence were purified in emptiness in accordance with the SHUNYATA mantra during bringing death into the path as the truth body, and you generated yourself as the emanation body of Vajrayogini as the resultant vajra-holder through the process of bringing the three bodies into the path and the five manifest enlightenments, the collection of the five aggregates of form and so forth became the (new) basis of imputation for labeling "I." It is upon that that you establish divine pride, thinking "I am the actual resultant Vajrayogini."
When meditating on the generation stage, if you can't establish stable divine pride of being the deity, it stems from not properly purifying (ordinary appearances and conceptions) in emptiness.
According to Longdor Lama, if you don't do that properly, you will not be able to put an end to ordinary appearances and conceptions. If you understand properly the process of imputing "I" through the realization of the view ( of emptiness ), it will assist you ( in understanding) that the conception of "I" is different from the "I" in the conception of divine pride. In that way, train in clear appearance and divine pride. Furthermore, you should meditate for a long time within the context of possessing the four special features mentioned earlier. ...
( These four special features are: 1) Only clear emptiness is appearing. 2) That emptiness is understood to be the absence of inherent existence. 3) The mind comprehending that emptiness is experiencing great bliss. 4) The "I" is imputed in dependence upon the first three. ).
[ Excepted from: The Extremely Secret Dakini of Naropa VAJRAYOGINI PRACTICE & COMMENTARY. Pabongkha Dechen Nyingpo. Translated by David Gonsalez ]"
In addition, Pabongkha Rinpoche brought up and elaborated very clearly on several critical points, an elaboration or refinement even, on top of the "original" Sakya practice on Vajrayogini such as through practices of the Nine Mixings, including the transformation of Death / Bardo / Rebirth into the Three Bodies of Buddhahood. This is probably the section of the foremost, pivotal importance which decisively projects the practitioner into the state of perfect Buddhahood and Pabongkha Rinpoche has been rightfully emphatic about this point.
Essentially, Pabongkha very heavily aligned the Vajrayogini practices to the standard Gelugpa understanding on tantras: centrality of dismantling of the "knots" of the Heart-Chakra at Completion Stage, amongst others.
Very interestingly, Pabongkha left little details undisturbed as He plunged His hands into seemingly teething issues such as arrangement of shrines during Tsog offerings ( eg: having a statue of Vajrayogini as representation of the enlightened Body aspect "stemmed from a mistaken oral tradition" ). This particular point could be puzzling as elaborations or qualifications are not provided.
His usual concerns, bb thinks, perhaps correctly and with justifications, on nectar pills, are also dealt with. Then, there are also remarks on differences between flicking the inner offering with the left ring finger or the vajra, what shapes Vajrayogini-related tormas should be squeezed into and to recite the 100 syllable Heruka Vajrasattva with or without the "Shri".
He appears to be at ( real ) pains, going to huge trouble to carve out a truly isolated, purely, improved ( maybe refined and / or revised in some ways ?? ) "Gelugpa" Vajrayogini, insulated from the historically-originated Sakya version. This is very ironical, indeed, as the "Gelugpa" Vajrayogini, without a shred of doubt, grew out of the Sakya tradition and it was upon Pabongkha's head that the blessed initiation waters of these earlier Sakya masters anointed !!
In the end, Pabongkha resorted to calling Vajrayogini the innermost secret Yidam of Je Tsongkhapa.
The Dalai Lama offers what bb feels is an accurate view on this:
"My position on Vajrayogini is also related to these matters. I cannot accept what some say. Namely, that Vajrayogini was the main and clandestine practice of Je Rinpoche. It is not as though I do not have any faith in Vajrayogini. I do Vajrayogini practice, I do the Heruka body mandala practice and they go well. I have done the full Vajrayogini retreat and I did get certain signs. There was nothing spectacular you understand, but something at least. They involve profound practices these, such as working with the Inner Fire. Milarepa, who felt it to be the foundation of the path, particularly stressed this latter thing. Meditation on the inner fire is something that comes up in all the practices of the Highest Yoga deities. A special section set aside for the visualisation and working with this inner fire at the end of the mantra recitation indicates its pride of place. It figures in the Vajrayogini, as in the other generation and completion stage practices. They are profound practices. I have faith in them and I do them myself. However, some people try to make out as though Vajrayogini is in fact not really a Sakya practice. However, they can point to no texts on the subject by Je Rinpoche or his main disciples. These people are therefore forced to resort to a line of reasoning in which they go through eliminating each of the other Tantric practices, and come up with the conclusion that it was this one that was Je Rinpoche's chief practice, but that he performed it covertly. In reality, this is a Sakya teaching." (
http://www.dalailama.com/messages/dolgyal-shugden/speeches-by-his-holiness/gelug-conference
)
On the other hand, Pabongkha is most likely than not, ( the book's introduction stated this also ) merely exercising and applying how Tibetan masters usually gave teachings: to 100% uplift the student, to inspire and infuse the disciples with unbounded enthusiasm, through praising the utter superiority of the tantra concerned, then declaring other tantras as "supreme" when teaching those. These are all, in the end, a bodhisattva's display of inconceivability in his very long and probably mightily difficult career of bringing mother beings to Buddhahood.
This is an age-old "tradition": Naropa calling the Guhyasamaja "King", then designating the Chakrasamvara the core and heart while the other tantras are like the outer husk of coconuts ( Marpa's biography - Shambala publication ), it seems.

For mundane students cum sentient beings, however, a bodhisattva's inconceivability can sometimes become ego-boosting power trips, sneering sectarianism or even the juvenile kindergarten, "My fireman dad is more glamorous than your boring lawyer dad."
"The extremely secret dakini of Naropa" is like a precious manual, unveiling the hidden, clarifying the unclear. It holds the key to liberation for the sincere, diligent practitioner who applies the critical points and practitioners are wise to picking the crucial, forgiving or understanding the irrelevant, trivial or mistaken.
____________________________________________________________________________________________________________________________________________
A final reflection has to be another note on Pabongkha's earlier association ( he later regretted and confessed to the previous Dalai Lama this wrong ) with the bad ghoul, shugden.
As the Dalai Lama pointed out below, Pabongkha is many times inaccurately presented by shugdenites these days as a gleeful shugden devotee, chiefly-occupied with shugden offering, composing and worshipping:
"To listen to these people ( bb: the modern day shugdenites ) you would get the impression that their ( bb: Pabongkha Rinpoche and His main disciple, Trijang Rinpoche ) worship of Dolgyal ( another name for shugden ) was the most important thing that these two did in their lives; their main contribution. That is ridiculous; it was not like that at all. One just has to look at the works that they composed, like the Stages of the Path by Phabongkha or that of Trijang Rinpoche. They were really both masters of and heirs to that tradition. I took many Stages of the Path teachings from Trijang Rinpoche. It was quite evident that there was something quite distinct in his way of explaining, something very special about it. In terms of Tantra, as well, he was a master, particularly of Heruka Chakrasamvara, and that he was a great yogi is a generally accepted fact. Therefore, the real contribution and achievement of both of these two figures was in terms of their mastery of the Stages of the Path, Mind Training and Heruka practise. Dolgyal was only ever a secondary thing..... Anyway, I am of the opinion that Phabongkha and Trijang Rinpoche's promotion of the worship of Dolgyal was a mistake. But their worship represents merely a fraction of what they did in their lives. Their contributions in the areas of Stages of the Path, Mind Training and Tantra teachings were considerable. Their contribution in these areas was unquestionable and in no way invalidated by involvement with Dolgyal."