HH the Dalai Lama with reincarnation of our precious Teacher,
Tenzin Dorje Tulku with Gyudmey Khensur Lobsang Delek and
entourage.
______________________________________________________________________________________________________
Dearest Friends @ CAS,
It has been a very long wait of 10 years.
One of CAS's precious Root Teacher, the late Gyudmey Khensur Dorje Tashi has finally returned to continue the precious legacy of Lord Buddha.
Rinpoche is one of the most erudite scholars and one of the most austere, realised masters and precious senior ordained sangha of the great Sera Je Monastery, with students running literally into many thousands, some of whom have themselves become senior abbots emeritus or even teachers in His Holiness the Dalai Lama's personal monastery.
In year 2000, the 100th Ganden Trisur Rinpoche changed His programme of the empowerment of the great Nechung Choegyal ( the Protector of Drepung Monastery ) to that of Chamsing ( the Protector of Sera Monastery ) in Singapore because, as He told us, we are students who have come from Sera Monastery !!
Very unforgettably, when we showed His Holiness a precious photograph of Khensur Dorje Tashi, His Holiness chuckled and squealed almost with delight, stabbing a finger at the picture, "Rinpoche has very pure samaya with me !!"
Not a day passed without Rinpoche's students dedicating for the unmistaken reincarnation of Rinpoche to return.
Now, we are happy and full of joy to see Rinpoche, recognised and ordained by His Holiness.
"Amituofo !!"
bb & CAS in homage
_________________________________________________________________________________________________________________
Dear Kunga Nyima ( bb-la ),
I hope you are fine and in sound of health. I guess you don't know me at all, well my name is Jampa Tashi and I am younger brother of Wangdue and I am very close relative and of Gyumed Khensur Dorjee Tashi Rinpoche. Well I really remembered you as you came here (Sera) when Rinpoche was ill and I really appreciate you kind and supportive nature toward us.
Today here I got very good news to share with you as the successor of Gyumed Khensur Dorjee Tashi Rinpoche as already came here.. Well we put five or six petitions to H.H.the Dalai Lama regarding the recognization of the successor of Gyumed Khensur Dorjee Tashi Rinpoche . Also H.H.the Dalai Lama told that H.H.got we good relationship with our Khensur Rinpoche and for this the matter will be taken into secret and through proper investigation. For this we did lots of hard work and final we got the result and we are very happy about this. Well the successor was born in Tibet (Kham Khanze) just near by the monastery of Rinpoche in Tibet and at the moment he is 7 yrs old and his name is Tulku Tenzin Dorjee Rinpoche and the this name is given by H.H. the Dalai Lama. The name symbolic that Tenzin is first name of H.H. and Dorjee is the name of our Khensur Rinpoche. We already knew he was born in Tibet before few years back as we got information from H.H.the Dalai Lama but H.H. told to keep it as top secret for few years as due to pressure from Chinese and if they knew about the successor was recognization by H.H. the Dalai Lama then he can't be escape to India so I also keep this matter as secret for you also so sorry for that.
On the 10th of Jan, the successor of Gyumed Khensur Dorjee Tashi Rinpochen starts journey from home (kham) with his father and reaches Lhasa on 14th of Jan then stay there for five days. From Lhasa to Nepal he was flee with the help of local people who used to do illegal border cross work with the help of money and on 23rd of Jan Tulku Tenzin Dorjee reached safely at Nepal around 11.30 A.M. For this reason Gen Pema Tsewang went to Nepal and pick up Tulku Tenzin Dorjee to India. Actually I am also going with Gen la but due to exam in monastery I can't make it.
So after giving of exam I went directly to Delhi with Tulku Tenzin Wanchuk Rinpoche and we wait for them and on 2nd of Feb, they reached around 9.00A.M. And then we marched to Dharamsala on 6th of Feb. But at the time H.H. is on Meditation so we got his blessing for short period on 12th Feb around 12.30 P.M. Later during the initiation of H.H. we all got good blessing from H.H.including me on 6th of March and around 12:30P.M.on that day he is turn to be monk by cutting a hair in front of H.H.the Dalai Lama.
Then 8th of March our journey start from Dharamsala to Sera Je Monastery and we reached here in Sera on 13th of march around 8:30.A.M. so on that day we did small ceremony at Sera Monastery. So he (Tulku) will be going to monastery to learn scripture and others after one month and they will a big ceremony on that day and the expense will be huge so we are trying our best to get money as much as we can. Here we are request to help us on this matter and hope you will continue your helping hand with us. We are always great full to you as without your support we can't get house like this. So I personally want to say thank you so much.
Here I am sending you pictures while blessing by H.H. The Dalai Lama :From Right Gyumed Khensur Lobsang Delek Rinpoche, Left one Tulku Tenzin Wangchuk Rinpoche, Left two Gen Pema Tsewang,Front sitting me(Jampa Tashi)and in front of H.H. the Dalai Lama is our successor Tulku Tenzin Dorjee Rinpoche and others are taking during small ceremony at Sera Je Monastery.
Please can you send me your postal Address as I have to send you the DVD of ceremony at Sera Monastery
With this I stop here with lots of regards
Yours Faithfully,
Jampa Tashi
_________________________________________________________________________________________________________________
Dear Jampa-la,
Thank you so much for the most precious photograph .... we really miss Rinpoche so much --
We are trying our best to practise according to what Rinpoche has taught all these years and it is not easy --
We pray to be able to see Rinpoche soon --
Please let us know if there is anything we need to do for Rinpoche and Khensur Lobsang Delek --
Do please offer one pure, white katag on behalf of everyone in our Buddhist society ( CAS of Thousand Arm Chenresig ) to our precious Guru with all wishes and prayers for the inifinite success of His studies and holy works in this lifetime --
We remain devotedly His very unruly students ....
"Tashi Delek !!"
bb @ CAS, guided by precious Khensur Dorje Tashi
____________________________________________________________________________________________________________________
Holy photo of the
late Gyudmey Khensur Dorje Tashi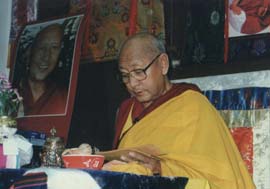 Singapore ( 1999 ) bestowing the
great Guhyasamaja Empowerment
____________________________________________________________________________________________________________________
An aside:
This is what we have meant to send a few months back and while we have been constantly kept updated of Rinpoche's recognition process ( we have even planned to travel to Tibet to bring Rinpoche out with Gen Lobsang Delek !! ), we dared not update you all due to advice of His Holiness and Gen Delek. Anyway, just for fun

A Secret
While we dutifully keep secret, a fitful news ( one of the seniormost Sera Je masters so commanded ) from all of you, we are dying, however, to soonest we can, unveil this very great joy plus a picture, not dissimilar to the naturally wondrous resounding of the magical drums and symphonies of the gods !!