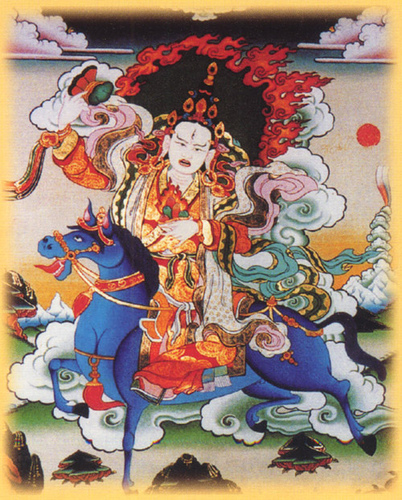 Achi Chokyi Drolma:
powerful Protectress "loved by all"
______________________________________________________________________________________________________
Dearest Friends @ CAS,
Everyone loves Achi.
Achi saves from poverty, gives strength, tames attacks ( from lurking monsters & "bad" mother human beings ) and provide divine guidance and blessings on the path to Enlightenment.
Achi is swift, powerful - an emanation of Vajrayogini, the divine mothers of infinite Buddhas.
Quoting from the Chakrasamvara Root Tantra, "The Head of the Activity Dakinis will come th the area of Tidro cave in Drikung. This will be a nirmanakaya manifestation of Vajra Yogini."
Famed mainly as THE iconic protectress of the Drikung Kagyu Lineage, Achi simultaneously cuts through Tibet's myriad lineages and is also a colossal figure in the Pompora Hostels of Drepung and Ganden ( two of the largest hostels in these great Gelugpa monasteries, the figure hitting nearly a thousand monks in these places alone ).
Then, again, how unfairly inadequate to expect anything less from Madame Achi, CAS's secret Shield and Provider..... ??!!
The Highlight/s ( News / Teachings )
This time, will be our third hosting of the precious initiation of supreme Achi:
- Khenpo Rangdrol - the standing, peaceful form of Achi ( 2003 )
- Terton Ganor Rinpoche - the visionary terma of sitting peaceful Achi ( 2007 )
Perhaps, it seems inevitable that it is CAS's karma that the Principal of Kagyu college shall return to bestow the chief aspect of wrathful Achi on Her swift, blue horse, complete with full Oral-Transmission and full textual support of Her Smoke Offering, Torma Offering and Sadhana.
This chief aspect of Achi Chokyi Drolma is very rarely bestowed and from our records ( generally accurate ), bestowal of the chief aspect of Achi has been much restricted and the last bestowal was 7 years back in 2001 - then, with no translation of texts as yet available.
From Germany, last Sunday, Khenpo gave His compassionate assent for "anyone - Buddhists or not - with faith in Achi" to receive and attend His bestowal of Achi's chief aspect on 5 July.
( You can see the full programme at www.casotac.com )
This, then, shall come to pass but do keep your prayer wheels rolling and rosaries clicking.
"To Achi ......!!"
"Beautiful Queen of Space, you are adorned with the glorious Dharma .... You hold sway over the demonic forces that sow the wrong views.
Glorious Mother of Happiness, you are the source of our great bliss and joy..... you smile and gently laugh to bring peace.... Your "damaru" filling the universe with its sweet sounds....
On Your blue water-horse amidst the clouds .... ( so ) rides the laughing Glorious Goddess Queen of Space....."
( by Drikung Kyobpa )
bb & all friends
@ CAS belonging to divine Achi
p/s:
- For Simultaneous translation into Chinese, grab a FM radio with headsets.
- There will only be webcast of the teachings. Khenpo prefers not to have the initiation of Achi webcasted.
- Next week, CAS will be with Khenpo Konchog Rangdol for FULL programme ( see www.casotac.com ). So, there should be no issue.
___________________________________________________________________________________________________
Quote/s from the Buddha's holy scripture
Sariputta and Mum
(Ed - One reason I found this story so interesting is that, hey, even Enlightened Ones sometimes have problems with their parents)

Sariputta was the Buddha's top disciple. His wisdom and ability to teach was said to be second only to the Buddha.
Sariputta died before the Buddha. A few months before his death, he bade his last farewell to the Buddha (all Enlightened Ones know when they're dying) and told him that he wanted to go home to repay his mother's kindness. The Buddha answered, "I understand".
Sariputta's mother was Sari. (The word Sariputta means "Sari's son"). She was very upset that her son became a monk. She much rather that he lived a lay life. So after he entered monkhood, she refused to talk to him.
When Sari heard that her son was returning, she was overjoyed. But when she saw him and realized that he was still a monk, she refused to see him or talk to him.
As days went by, Sariputta became weaker and weaker. Still, his mother refused to talk to him.
It was said that on the night before Sariputta's Final Nirvana (ie death), gods came to his room by the truckloads to pay their final respect. According to the scriptures, Sariputta was not only a famous teacher of men, he was also a teacher of gods. All these gods come to say goodbye to their teacher.
It was said that the glorious lumination of the gods brightened up the whole room. Sari was awoken by the bright light and came to see what the commotion was. When she witness all these gods paying respects to her son (instead of the other way round!), she realized that her son was no ordinary monk after all. Only then did she talk to him.
Sariputta's last act before his death was to teach his mother the Four Noble Truths. Learning thus, mum became a Stream- Winner. Sariputta had thus repayed his mother's kindness and he passed away.
____________________________________________________________________________________________________
The Update/s
The Guru: "Lost & Found"
Apparently, the earthly Pure Land of Guru Padmasambhava in Pema Kod in India, is not plugged into the world's mobile channels. After months, Khenpo Tsering Dorje has finally been located. Khenpo has since travelled from India to Taiwan, from there to Hong Kong, then back again to Taiwan. His continuation of the Longchen Nyingthig transmission is tentative given His horrifying schedule but if realised, there will be Oral Transmission of the entire Yonten Dzod volume ( "Treasury of Precious Qualities" ), the Eight Great Commands and the Queen of Great Bliss.
Safe Waters
The cream of cream of the Gelugpa heads: the 100th Ganden Trisur, the Sharpa Choje, Loseling Khensur and Gen Wangchen ( Teacher of Ling Rinpoche incarnate - senior tutor of the Dalai Lama ) has had safe drinking water ever since their aluminium kettles have been replaced with stainless steel ones. Loden-la has emailed on the successful acquisition and Friends @ CAS can once more slap their backs in joy on the mission accomplished ( !! )
___________________________________________________________________________________