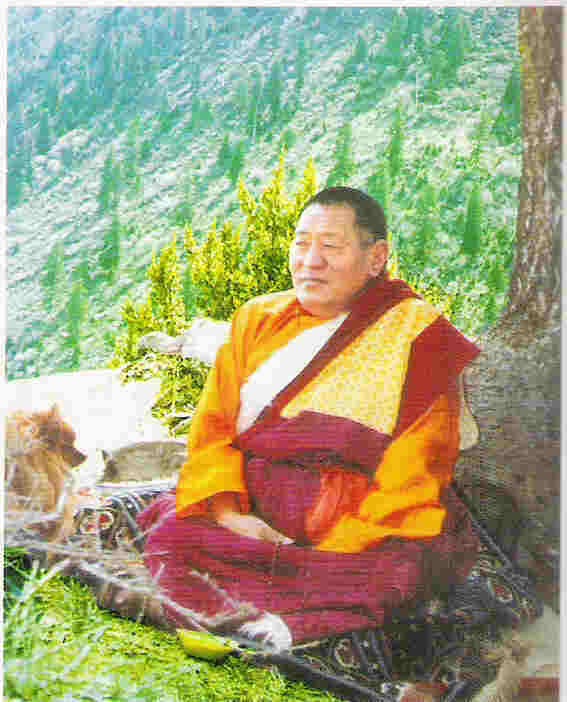 The great Sertha Khenpo Jigme Phuntsok Rinpoche is one of the truly greatest Buddhist Masters of this century... being also one of main Nyingmapa Teachers of HH the present Dalai Lama as well as some of the greatest Masters alive today.
Khenpo Jig-Phun [ short for Khenpo Jigme Phuntsok ~~ ], in His past life as the great Terton Sogyal, was also one of the Teachers of the previous Dalai Lama.
________________________________________________________________________________
Khenpo Jig-Phun's great, holy Activities
There are prophecies from Guru Padmasambhava that anyone who forge karmic connections with Khenpo Jig-Phun ...... be it positive or even negative, will be liberated from samsara forever and will be guided to Lord Buddha Amitabha's Pure Land of Highest Bliss at the time of death ~~
A definitive sign of His boundless compassion, impeccable practice and power, Khenpo Jig-Phun successfully founded and established THE largest religious college in the world, the famed Sertha Lharong, in Tibet itself, training more than ten thousand monks and nuns throughout the nearly half a century long communist occupation of Tibet......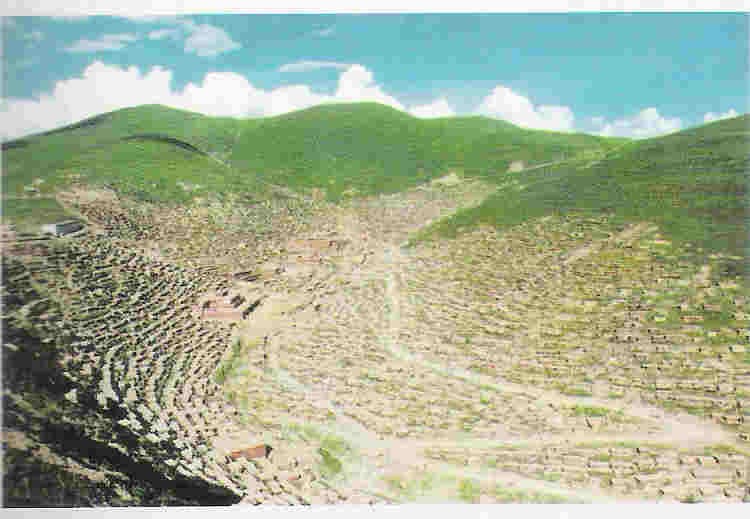 The Sertha Lharong Buddhist College
To inspire faith in the power of the holy Dharma, even to hardened communists, Rinpoche on relatively numerous occasions, revealed sacred texts and objects by pulling them out of solid rock surfaces and even out of empty space in front of thousands of devotees.....
Rinpoche at times left His hand prints or footprints in solid rock......
these places becoming sacred sites where countless of healings took place ~~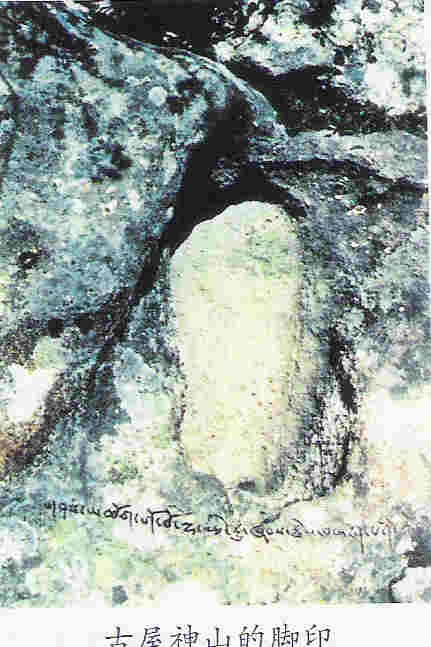 Rinpoche's Footprints in solid rock
During the meeting between HH the Dalai Lama and Khenpo Jig-Phun in 1999, in an auspicious congregation of blessings, the entire Fire Puja section of the practice of the great Buddhist Meditational Deity Vajrakilaya appeared in the sky of Dharamsala to Khenpo Jig-Phun. Due to Rinpoche's failing eye sight, HH the Dalai Lama personally scripted the entire text at Khenpo Jig-Phun dictation and the text is now faithfully appendixed into the the famed "Vajra GurKhuma".
Several important "Great Prayer Festivals", such the great Vajrasattva and the great Amitabha prayer-festivals saw the showering of thousands upon thousands of relics from the sky, inspiring unshakable faith in the more than ten thousand people attending ~~~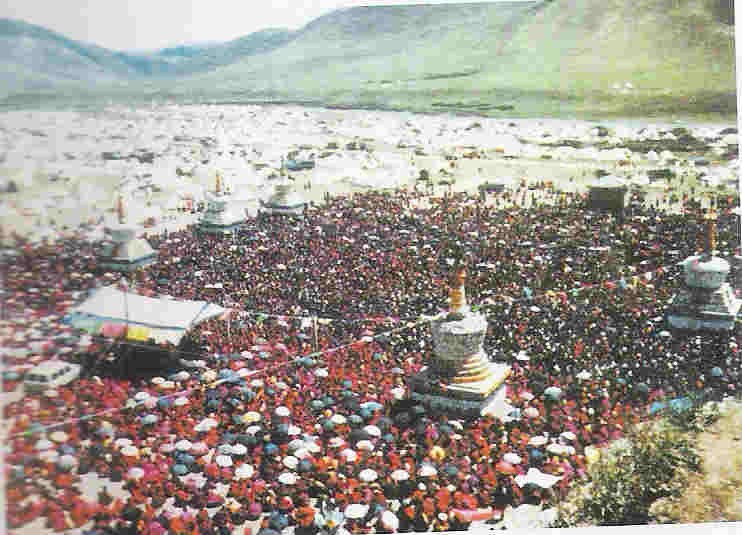 The Amitabha Great Prayer Festival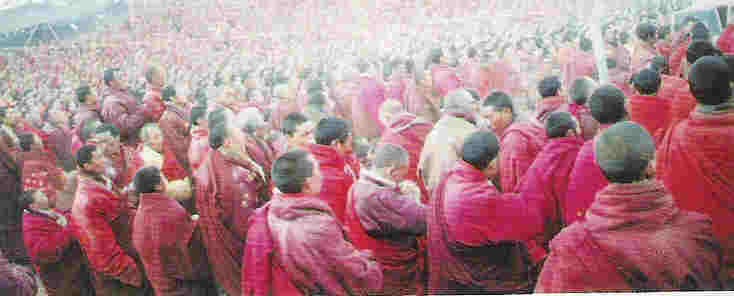 The Vajrasattva Great Prayer Festival
___________________________________________________________________________________
Khenpo Jig-Phun's Past Incarnations
In His past life, Rinpoche has manifested as Maha Prajapati, Lord Buddha's very own Auntie who nursed and brought Him up and who was responsible for establishing the Bhikshuni Order..
Besides, Rinpoche brought peace and stability to Tibet and boundless benefits to the Buddha's Teachings when He manifested as Sakya Pandita, one of the greatest Sakyapa Masters ~~
In addition, Rinpoche manifested as Khedrup Je, one of the 2 main disciples of Je Tzongkhapa, the third Ganden Tripa, and who also helped to co-found the Gelug Tradition.
_____________________________________________________________________________________
The Great Lamp Offering Festival
Taking on the sufferings of our world for all pitiful sentient beings, Khenpo Jig-Phun passed away into Nirvana just 2 years ago and since then, Rinpoche's great holy activities continue to flourish through several of His outstanding Disciples such as Khenpo Suo-Da-Ji, Khenpo Ci-Chen-Luo-Zhu amongst others.
Annually, too, at Bodhigaya, the holiest place for Buddhists all over the world, where Lord Buddha showed the Supreme Enlightenment, a massive Lamp Offering offering is held to commemorate this great Bodhisattva ~~
bb and other beings @ CAS are deeply honoured to offer whatever feeble assistance to this great Bodhisattva through sending out an appeal to all our friends in our colourful mailing list in support of this holy event......
"Namo Amitofuo !!"
"Om Ah Hung Benza Guru Pema Siddhi Hung.......!!"
With clasped / rubbing paws,
THE beings @ CAS
p/s:
- This is one of the rarest time where attachments are sent thorough CASonline and is certified "Virus Free !!" and guaranteed "Merit Full !!"
Nice Note:
- The Chinese appeal is available upon request !!
- The Vajrasattva Practice as revealed by Khenpo Jig-Phun is available upon request !!
Nice article on Khenpo Jig-Phun