Teaching On the 37 Practices of a Bodhisattva
by Ngülchu Thogme Zangpo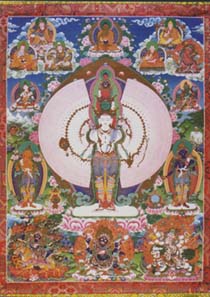 The great 14th century Bodhisattva, Ngülchu Thogme Zangpo, trained and studied scripture and logic at monasteries in the Tsang region of central Tibet. At the age of 43, he entered the Precious Cave of Quicksilver, where he spent more than 20 years in solitary retreat. During this time, he composed these 37 brief verses; embracing all the essential aspects of the Bodhisattva's conduct and path to full enlightenment. As stated by the author himself in his dedication, this is not a complex composition suitable only for learned scholars, but rather a simple and genuine guide to the way in which the Bodhisattva truly acts. Commentaries based on this text are popular among all four schools of Tibetan Buddhism, and this teaching is often given as a preliminary to advanced tantric discourse.
His Eminence Dzogchen Rinpoche will give clear and detailed explanation on the meaning of each verse in turn, while drawing inspiration from other relevant works such as Shantideva's 'Bodhisattva's Way of Life', and 'The Words of My Perfect Teacher' by the great Dzogchen master Patrul Rinpoche.